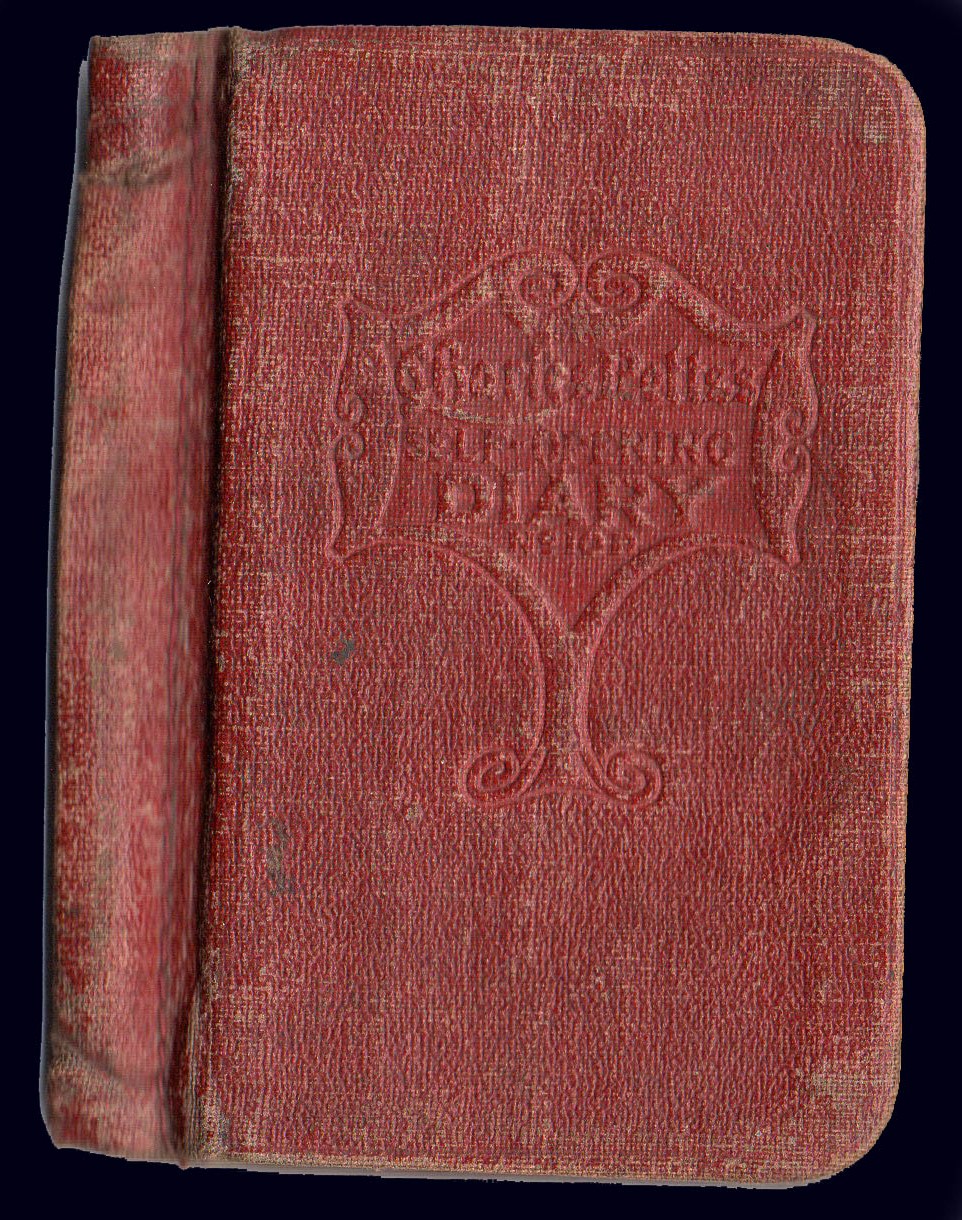 1915
1916
January 2 to March 25
March 26 to May 20
May 21 to July 15
July 16 to September 9
September 10 to November 4
November 5 to December 31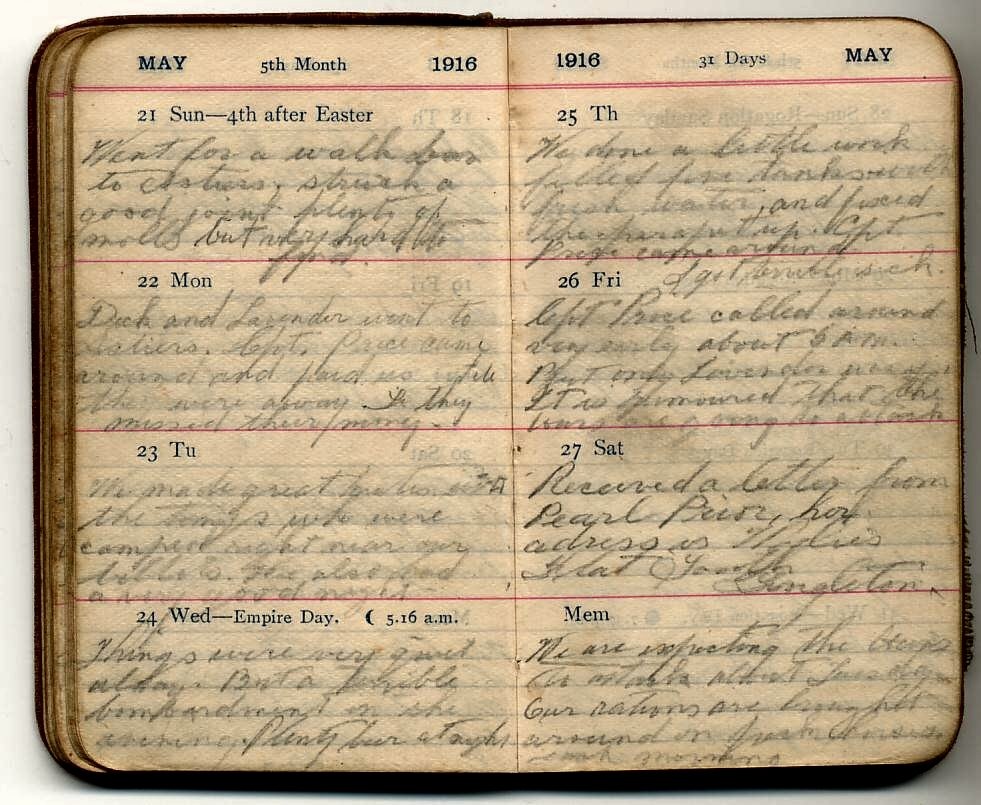 May 21 Sun Went for a walk over to Estaires, struck a good joint plenty of molls but very hard to find.
22 Mon Dick and Lavender went to Estaires. Cpt Price came around and paid us while they were away. So they missed their money.
23 Tu We made great mates with the Tomys who were camped right near our billets. We also had a very good night.
24 Wed Things were very quiet all day. But a terrible bombardment in the evening. Plenty beer and laughs.
25 Th We done a little work filling five tanks with fresh water and fixed the parapets up. Capt. Price came around. I got terrible sick.
26 Fri Capt. Price called around very early, about 5am, but only Lavender was up. It is rumoured that the Huns are going to attack.
27 Sat Received a letter from Pearl Prior, her address is Wylies Flat, South Singleton.
Mem We are expecting the Huns to attack about Tuesday. Our rations are brought around on fresh horses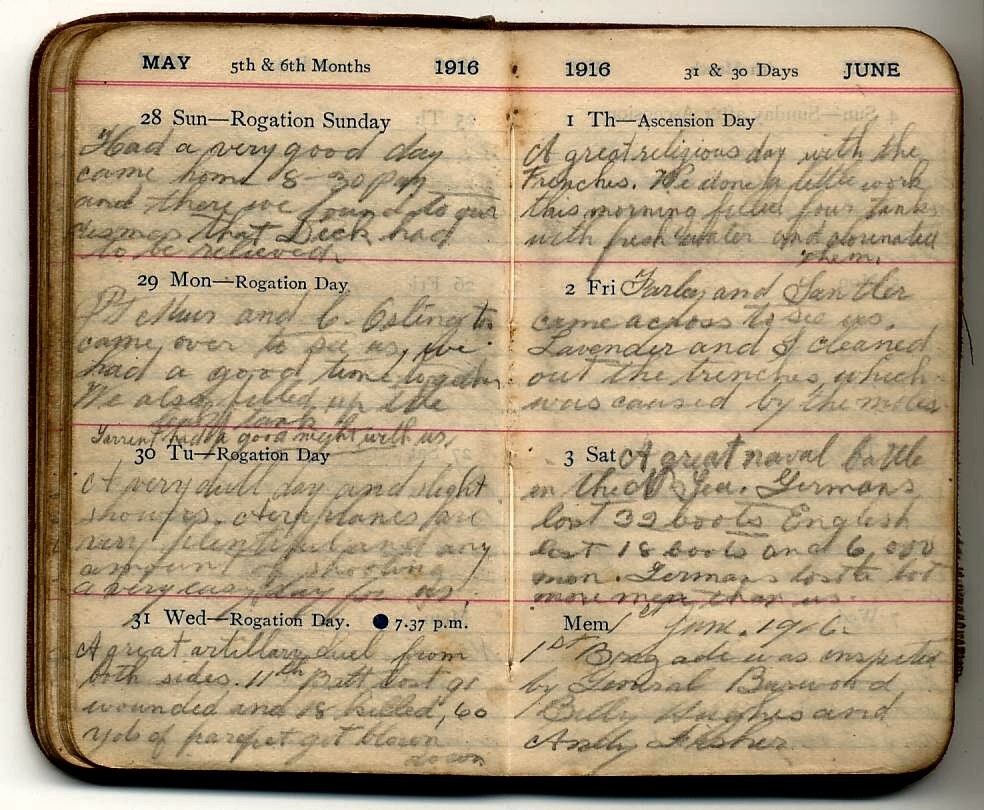 May 28 Sun Had a good day. Came home 8.30pm and there we found to our dismay that Dick had to be relieved.
29 Mon Pt Muir and C. Osling come over to see us, we had a good time together. We also filled up the leaky tanks.
30 Tu Very dull day and slight showers. Aeroplanes are very plentiful and any amount of shooting. A very easy day for us.
31 Wed A great artillery duel from both sides. 11th Battalion lost 91 wounded and 18 killed, 60 yds of parapet got blown down.
Jun 1 Th A great religious day with the Frenchies. We done a little work this morning, filled four tanks with fresh water and clorinated them.
2 Fri Farley and Santler came across to see us. Lavender and I cleaned out the trenches which was caused by moles.
3 Sat A great naval battle in the North Sea. Germans lost 32 boats, English lost 18 boats and 6000 men. Germans lost a lot more men than us.
Mem 1st June 1916, 1st Brigade was inspected by General Birdwood, Billy Hughes and A. Fisher.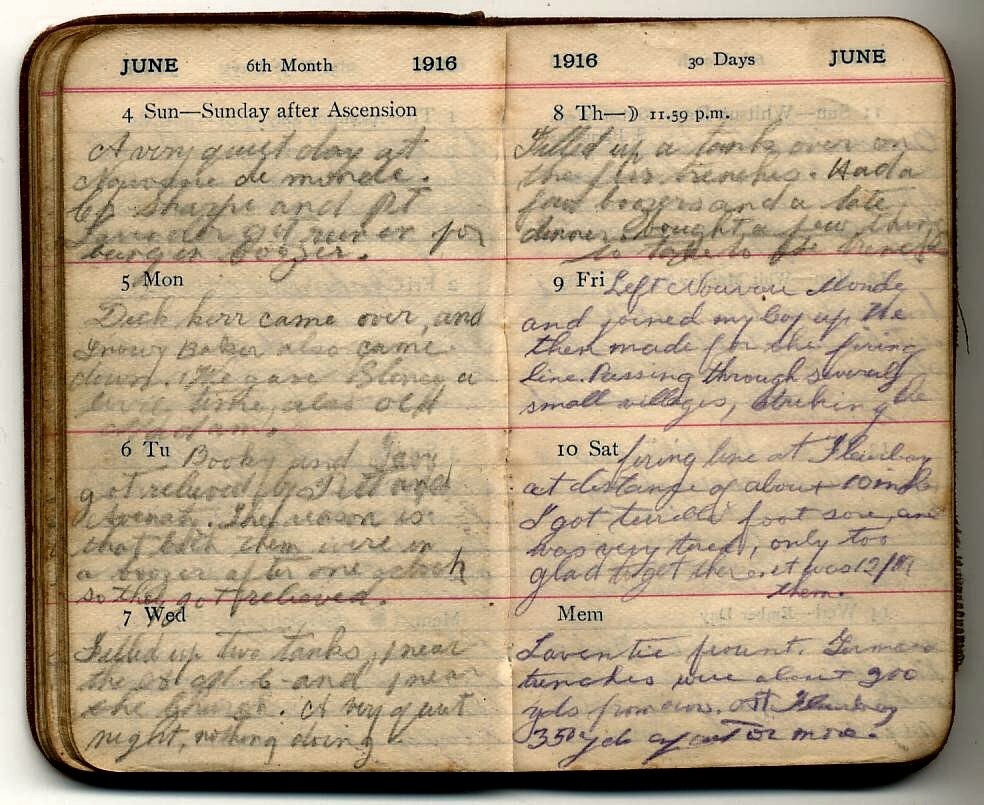 Jun 4 Sun A very quiet day at Nouvane de Monde??. Cp Sharpe and Pt Lavender got run in for being on boozer.
5 Mon Dick Kerr came over and Snowy Baker also came down. We gave Blincey?? a lively time, also old Madam??
6 Tu Booky and Davy got relieved by Bill ??? The reason is that both of them were in a boozer after one oclock, so they got relieved.
7 Wed Filled up two tanks one near the A.M.C. and one near the Church. a very quiet night, nothing doing.
8 Th Filled up a tank over on the far trenches. Had a few boozers and a late dinner. Bought a few things to take to the trenches.
9 Fri Left Nouvou monde and joined my coy up. We then made for the firing line. Passing through several small villages, striking the
10 Sat firing line at Fleurbaix at distance of about 10 miles. I got terrible foot sore and was very tired, only too glad to get there. It was 12pm then.
Mem Laventie front. German trenches were about 200 yds from ours. At Fleurbaix 350yds apart or more.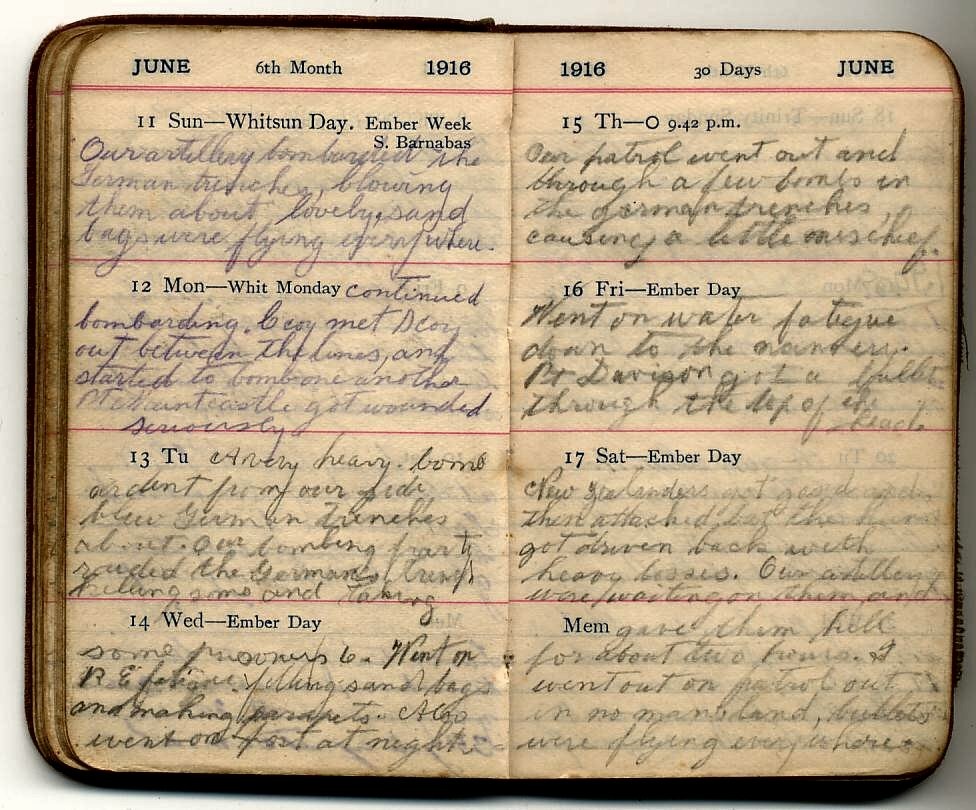 Jun 11 Sun Our artillery bombarded the German trenches blowing them about lovely, sand bags were flying everywhere.
12 Mon Continued bombarding. C company met D coy out between the lines and started to bomb one another. Pte Muntcastle got wounded seriously.
13 Tu A very heavy bombardment from our side, blew German trenches about. Our bombing party raided the German trenches killing some and taking
14 Wed some prisoners 6. Went on RE fatigue filling sandbags and making parapets. Also went on post at night.
15 Th Our patrol went out and threw a few bombs in the German trenches causing a little mischief.
16 Fr Went on water fatigue to the nannery? Pte Davison got a bullet through the top of the head.
17 Sat New Zealanders got gased and then attacked but the Huns got driven back with heavy losses. Our artillery were waiting on them and
Mem gave them hell for about two hours. I went out on patrol in no mans land, bullets were flying everywhere.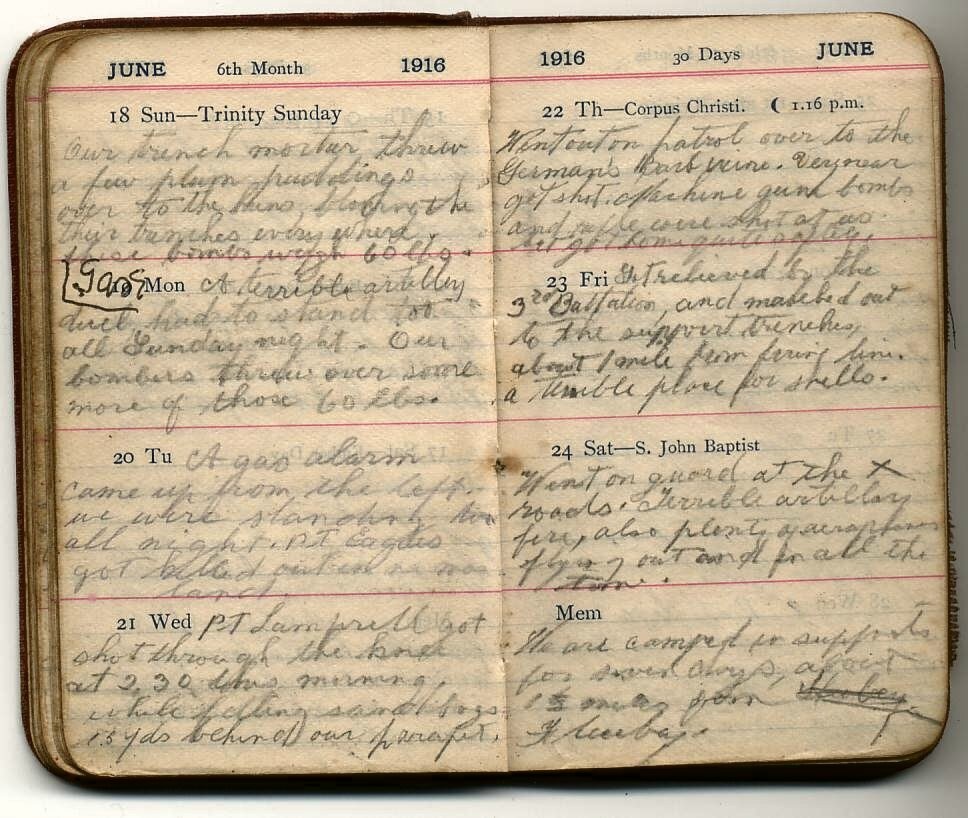 Jun 18 Sun Our trench mortars threw a few plum puddings over to the huns blowing their trenches everywhere. These bombs weigh 60lbs.
19 Mon A terrible artillery duel. Had to stand too all Sunday night. Our bombers threw over some more of those 60lbs.
20 Tu A gas alarm came up from the left. We were standing too all night. Pte Eagles got killed out in no mans land.
21 Wed Pte Lamprell got shot through the knee at 2.30 this morning while filling sandbags 15yds behind our parapet.
22 Th Went out on patrol over to the German's barbwire. Very near got shot. Machine gun bombs and rifle were shot at us, but got home quite safely.
23 Fri Got relieved by the 3rd Battalion and marched out to the support trenches about 1 mile from the firing line. A terrible place for shells.
24 Sat Went on guard at the X roads. Terrible artillery fire, also plenty of aeroplanes flying out and in all the time.
Mem We are camped in support for seven days about 1 1/2 miles from Fleurbaix.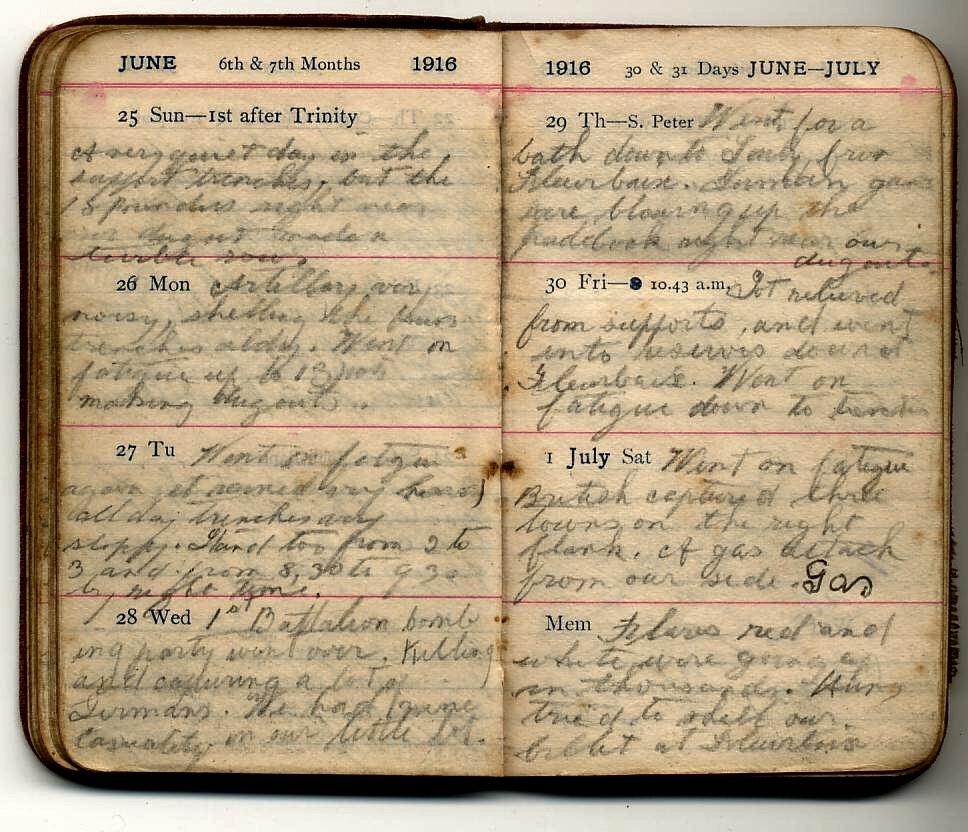 Jun 25 Sun A very quiet day in the support trenches, but the 18 pounders right near our dug out made a terrible noise.
26 Mon Artillery very noisy, shelling the huns trenches all day. Went on fatigue up to 13? making dugouts.
27 Tu Went on fatigue again, it rained very heavy all day, trenches very sloppy. Stand too 2 to 3 and from 8.30 to 9.30 by night time?
28 Wed 1st Battalion bombing party went over killing and capturing a lot of Germans. We had nine casualties in our little lot.
29 Th Went for a bath down to Torbie? from Fleurbaix. German guns were blowing up the paddock right near our dug outs.
30 Fri Got relieved from supports and went into reserves down at Fleurbaix. Went on fatigue down to trenches.
Jul 1 Sat Went on fatigue. British captured three towns on the right flank. A gas attack from our side.
Mem Flares red and white were going up in thousands. Huns tried to shell our billet at Fleurbaix.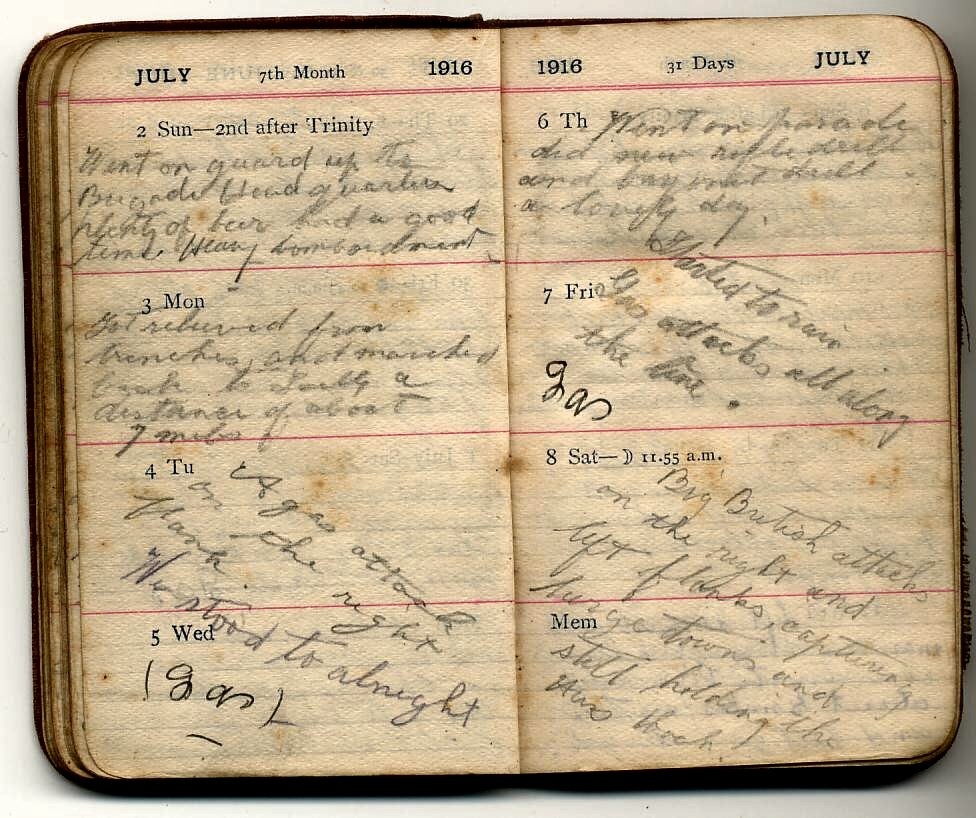 Jul 2 Sun Went on guard up at the brigade headquarters, plenty of beer had a good time.Heavy bombardmt.
3 Mon Got relieved from trenches and marched back to Sailly ?? a distance of about 7 miles.
4 & 5 Tu & Wed A gas attack on the right flank. We stood to alnight.
6 Th Went on parade did new rifle drill and bayonet drill. A lovely day.
7 Fri Started to rain. Gas attacks all along the line.
8 Sat Big British attacks on the right and left flanks, capturing large towns and still holding the huns back.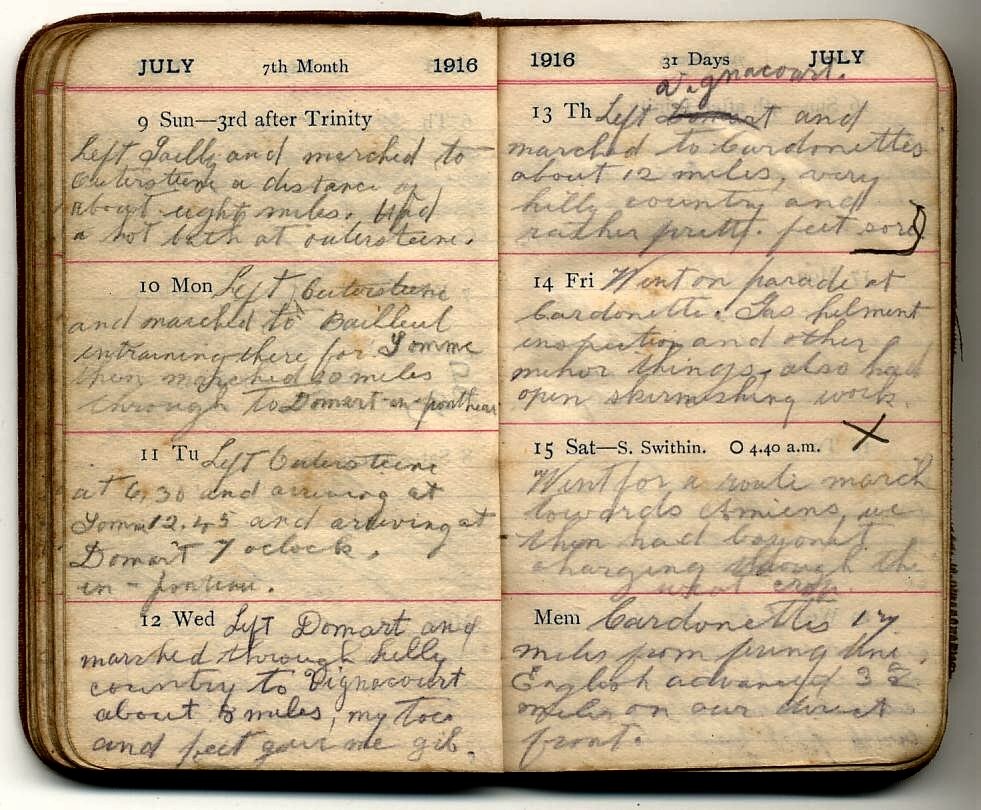 Jul 9 Sun Left Sailly and marched to Outersteine? a distance of about 8 miles. Had a hot bath at Outersteine.
10 Mon Left Outersteine and marched to Bailleul entraining there for Somme, then marched 10 miles through to Domart-en-Pontieu.
11 Tu Left Outersteine at 6.30 and arriving at Somme 12.45 and arriving at Domart-en-Pontieu 7oclock.
12 Wed Left Domart and marched through hilly country to Vignecourt about 8 miles, my toes and feet gave me gib?
13 Th Left Vignecourt and marched to Cardonettes, about 12 miles, very hilly country and rather pretty. Feet sore.
14 Fri Went on parade at Cardonette. Gas helmet inspection and other minor things, also had open skirmishing work.
15 Sat Went for a route march towards Amiens, we then had bayonet charging through the wheat crop.
Mem Cardonettes 17 miles from firing line. English advanced 3 1/2 miles on our direct front.