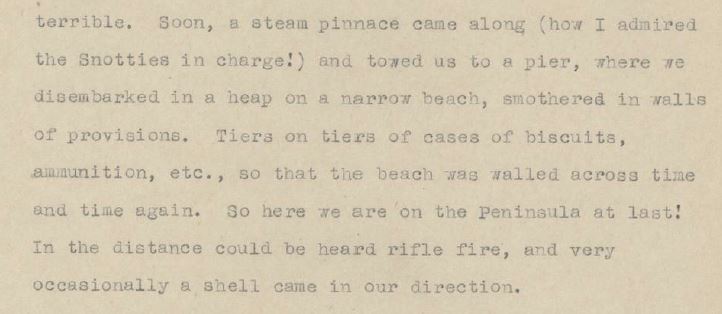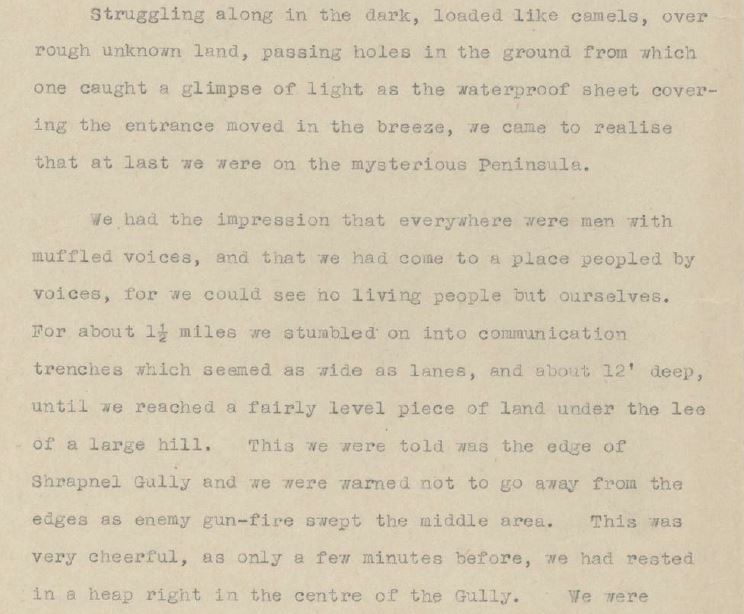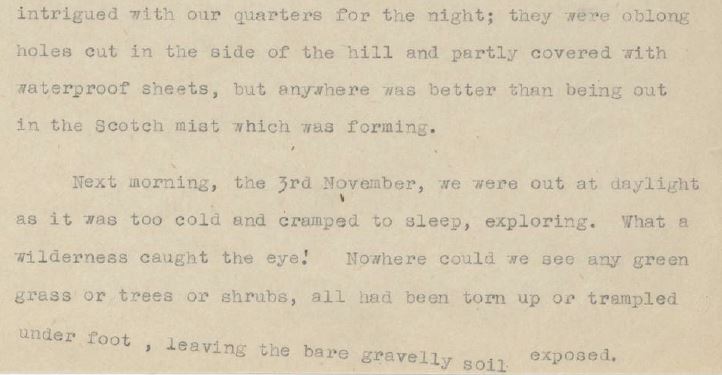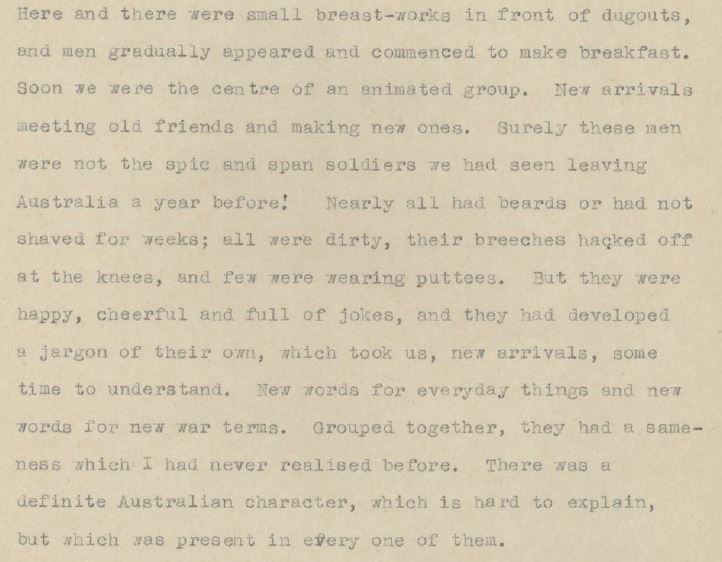 Soon a steam pinnace came along (how I admired the Snotties in charge!) and towed us to a pier, where we disembarked in a heap on a narrow beach, smothered in walls of provisions. Tiers on tiers of cases of biscuits, ammunition, etc., so that the beach was walled across time and time again. So here we were on the Peninsula at last! In the distance could be heard rifle fire, and very occasionally a shell came in our direction.
Stores at ANZAC Cove

Struggling along in the dark, loaded like camels, over rough unknown land, passing holes in the ground from which one caught a glimpse of light as the waterproof sheet covering the entrance moved in the breeze, we came to realise that at last we were on the mysterious Peninsula.

We had the impression that everywhere were men with muffled voices, and that we had come to a place peopled by voices, for we could see no living people but ourselves. For about 1 1/2 miles we stumbled on in communication trenches which seemed seemed as wide as lanes and about 12' deep, until we reached a fairly level piece of land under the lee of a large hill. This we were told was the edge of Shrapnel Gully and we were warned not to go away from the edges as enemy gun-fire swept the middle area. This was very cheerful, as only a few minutes before, we had rested in a heap right in the centre of the Gully. We were intigued with our quarters for the night; they were oblong holes cut in the side of the hill and partly covered with waterproof sheets, but anywhere was better than being out in the Scotch mist which was forming.
Next morning, the 3rd November, we were out at daylight as it was too cold and cramped to sleep, exploring. What a wilderness caught the eye! Nowhere could we see any green grass or trees or shrubs, all had been torn up or trampled underfoot, leaving the bare gravelly soil exposed.

Here and there were small breast-works in front of dugouts, and men gradually appeared and commenced to make breakfast. Soon we were the centre of an animated group. New arrivals meeting old friends and making new ones. Surely these men were not the spic and span soldiers we had seen leaving Australia a year before! Nearly all had beards or had not shaved for weeks; all were dirty, their breeches hacked off at the knees, and few were wearing puttees. But they were happy, cheerful and full of jokes, and they had developed a jargon of their own, which took us new arrivals, some time to understand. New words for everyday things and new words for war terms. Grouped together, they had a same-ness which I had never realised before. There was a definite Australian character, which is hard to explain, but which was present in every one of them.