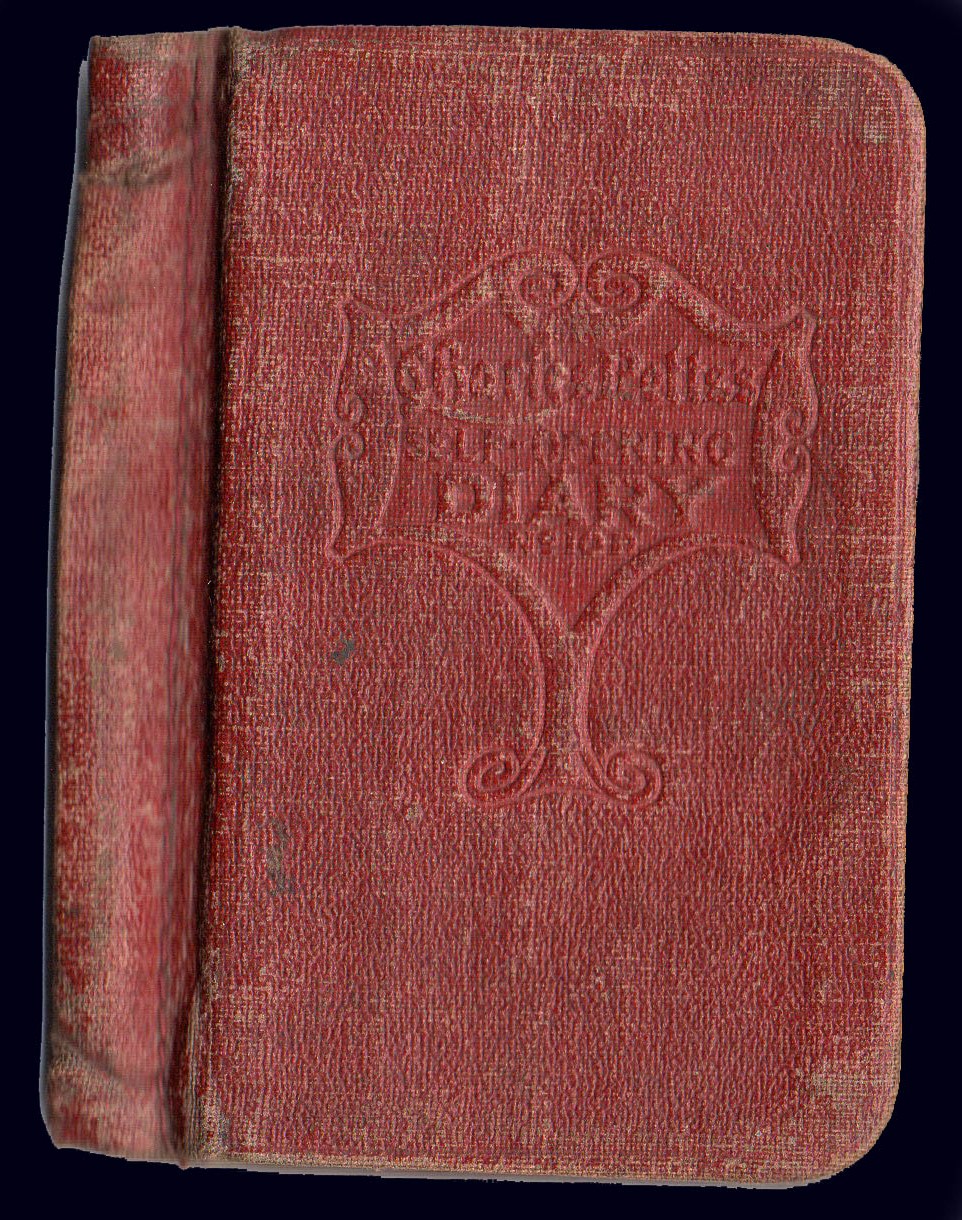 1915
1916
January 2 to March 25
March 26 to May 20
May 21 to July 15
July 16 to September 9
September 10 to November 4
November 5 to December 31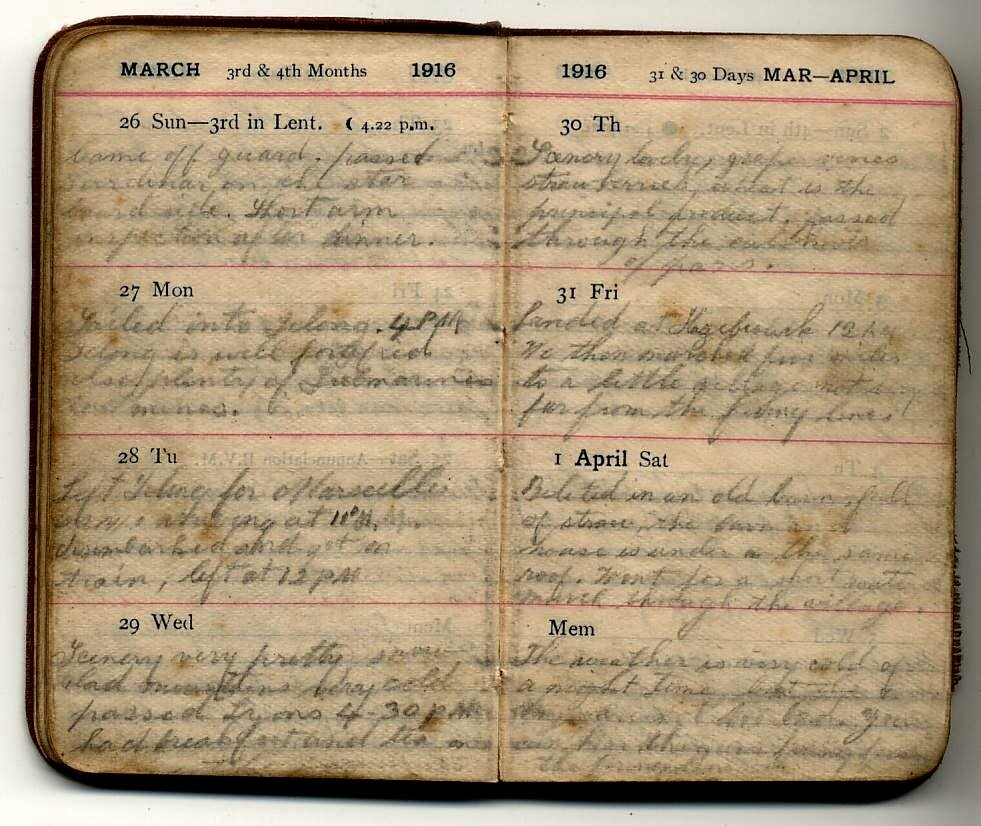 Mar 26 Sun Came off guard passed Sardinia on the starboard side. Short arm inspection after dinner.
27 Mon Sailed into Selong 4pm. Selong is well fortified with plenty of submarines and mines.
28 Tu Left Selong for Marseilles arriving 11pm. Disembarked and got on train. Left 12 pm.
29 Wed Scenery very pretty, snow clad mountains, very cold, passed Lyons 4.30pm, had breakfast and tea on the train.
30 Th Scenery lovely, grape vines, strawberries, wheat is the principal product, passed through the outskirts of Paris.
31 Fri Landed at Hazebrouck 12pm. We then marched to a little village not very far from the front line.
Apr 1 Sat Billeted in an old barn full of straw. The barn and house is under the same roof. Went for a short route march through the village.
Mem The weather is very cold of a night time but this ?? hot bath? You can hear firing?? ??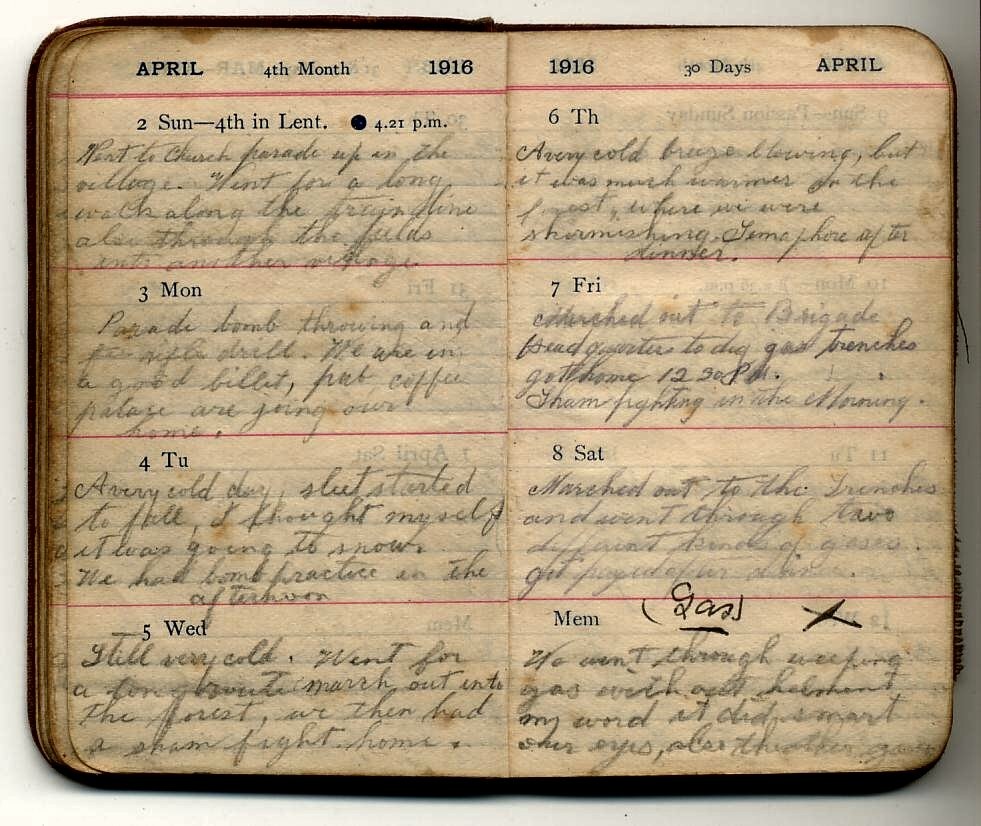 April 2 Sun Went to church parade up in the village. Went for a long walk along the train line also through the fields into another village.
3 Mon Parade bomb throwing and rifle drill. We are in a good billet, pub, coffee palace joining? our home.
4 Tu A very cold day, sleet started to fall. I thought myself it was going to snow. We had bomb practice in the afternoon.
5 Wed Still very cold. Went for a long route march out into the forest, we then had a sham fight home.
6 Th Very cold breeze blowing, but it was much warmer in the forest where we were skirmishing. Semaphore after dinner.
7 Fri Marched out to Brigade Headquarters today to dig gas trenches, got home 12.30pm. Sham fighting in the morning.
8 Sat Marched out to the trenches and went through two different kinds of gases. Got payed after dinner.
Mem We went through weeping gas without helmet. My word it did smart our eyes, also the other gas.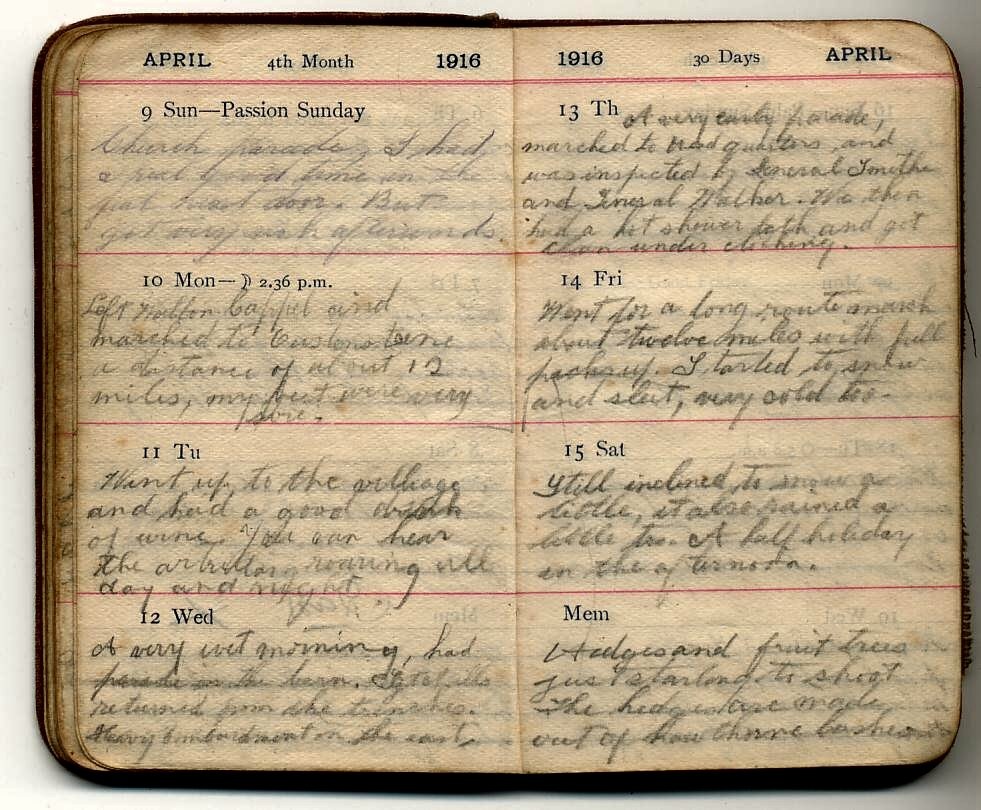 Apr 9 Sun Church parade. I had a real good time in the flat next door. But got very sick afterwards.
10 Mon Left Wallon Cappel and marched to Oustensteine, a distance of about 12 miles, my feet were very sore.
11 Tu Went up to the village and had a good drink of wine. You can hear the artillery roaring all day and night.
12 Wed A very wet morning, had parade in the barn. Sgt Mills? returned from the trenches. Heavy bombardment in the east.
13 Th A very early parade, marched to Headquarters and was inspected by General Smith and General Walker. We then had a hot shower bath and got clean underclothing.
14 Fri Went for a long route march about 12 miles with full packs on. Started to snow and sleet, very cold too.
15 Sat Still inclined to snow a little, it also rained a little too. A half holiday in the afternoon.
Mem Hedges and fruit trees just starting to shoot. The hedges are made out of hawthorne bushes.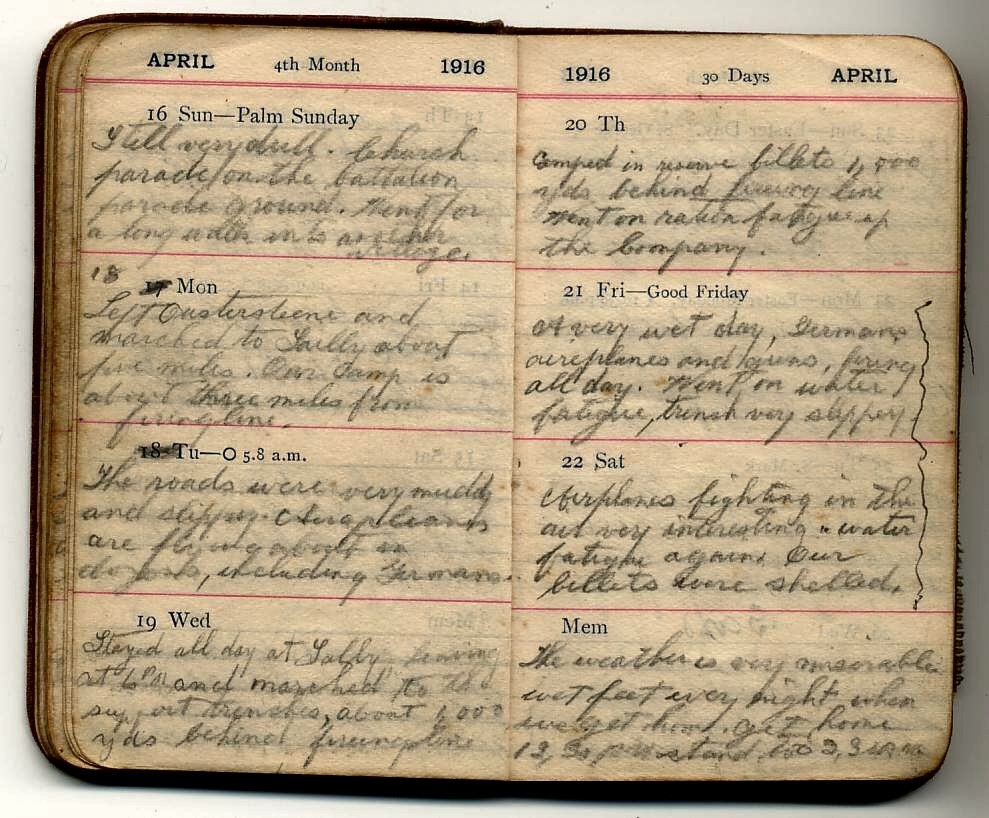 Apr 16 Sun Still very dull. Church parade on the battalion parade ground. Went for a long walk into another village.
18 Tu Left Oustersteine and marched to Sailly, about 5 miles. Our camp is about 3 miles from the firing line. The roads were very muddy and slippery. Our planes are flying about in dozens including Germans.
19 Wed Stayed all day at Sailly leaving at 6pm and marched to the support trenches about 1000yds behind the firing line.
20 Th Camped in reserve billets 1000yds behind firing line. Went on ration fatigue up the company.
21 Fri A very wet day, German aeroplanes and guns firing all day. Went on water fatigue, trench very slippery.
22 Sat Aeroplanes fighting in the air, very interesting. Water fatigue again. Our billets were shelled.
Mem The weather is very miserable, wet feet every night when we get home. Get home 12.30, stand to till 2.30am.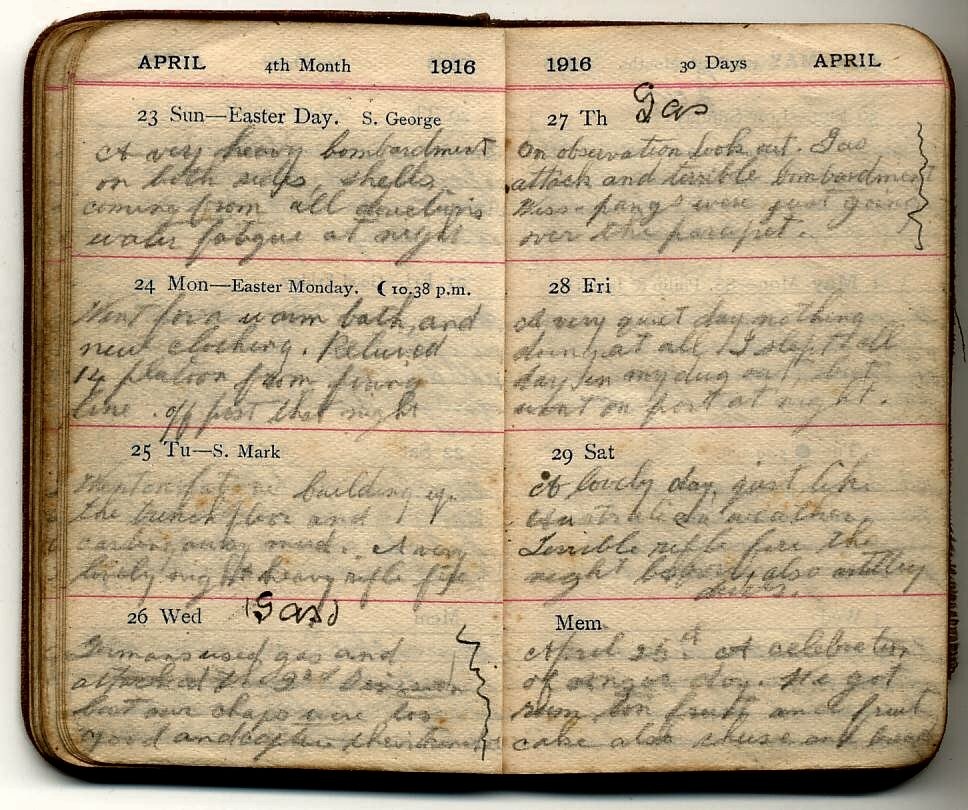 April 23 Sun A very heavy bombardment on both sides, shells coming from all directions. Water fatigue at night.
24 Mon Went for a warm bath and new clothing. Relieved 14 platoon from firing line. Off post that night.
25 Tu Went on fatigue building up the trench floor and carrying away mud. A very lively night, heavy rifle fire.
26 Wed Germans used gas and attacked the 2nd division but our chaps were too good and captured their transports.
27 Th On observation lookout. Gas attack and terrible bombardment. Wiss-pangs were just going over the parapet.
28 Fri A very quiet day nothing doing at all. I slept all day but went on post at night.
29 Sat A lovely day, just like Australian weather. Terrible rifle fire the night before, also artillery.
Mem (April 25 A celebration of Anzac day. We got rum, tin fruit and fruit cake, also cheese and bread.)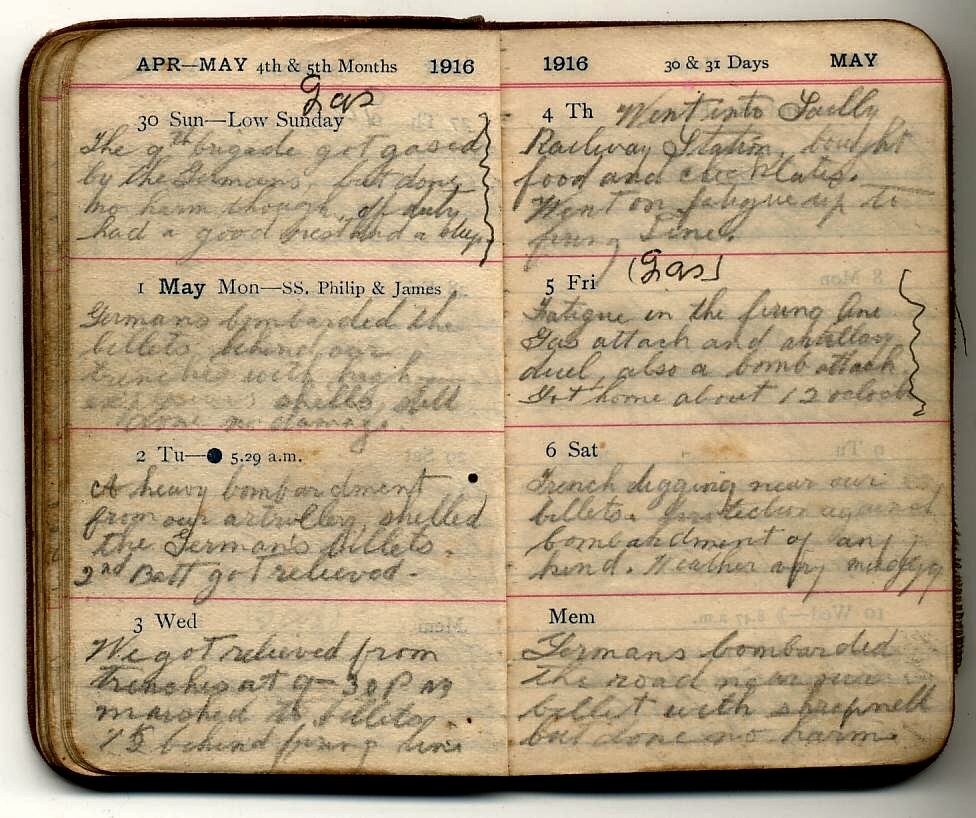 Apr 30 Sun The 9th brigade got gassed by the Germans, but done no harm though. Off duty had a good rest and a sleep.
May 1 Mon Germans bombarded the billets behind our trenches with high explosive shells. Still done no damage.
2 Tue A heavy bombardment from our artillery. Shelled the German's billets. 2nd Battalion got relieved.
3 Wed We got relieved from trenches at 9.30am. Marched to billets 1 1/2 behind firing line.
4 Th Went into Sailly railway station, bought food and chocolates. Went on fatigue up the firing line.
5 Fri Fatigue in the firing line. Gas attack and artillery duel, also a bomb attack. Got home about 12 oclock.
6 Sat Trench digging near our billets. Protection against bombardment of any kind. Weather very muggy.
Mem(Germans bombarded the road near our billet with shrapnel but done no harm)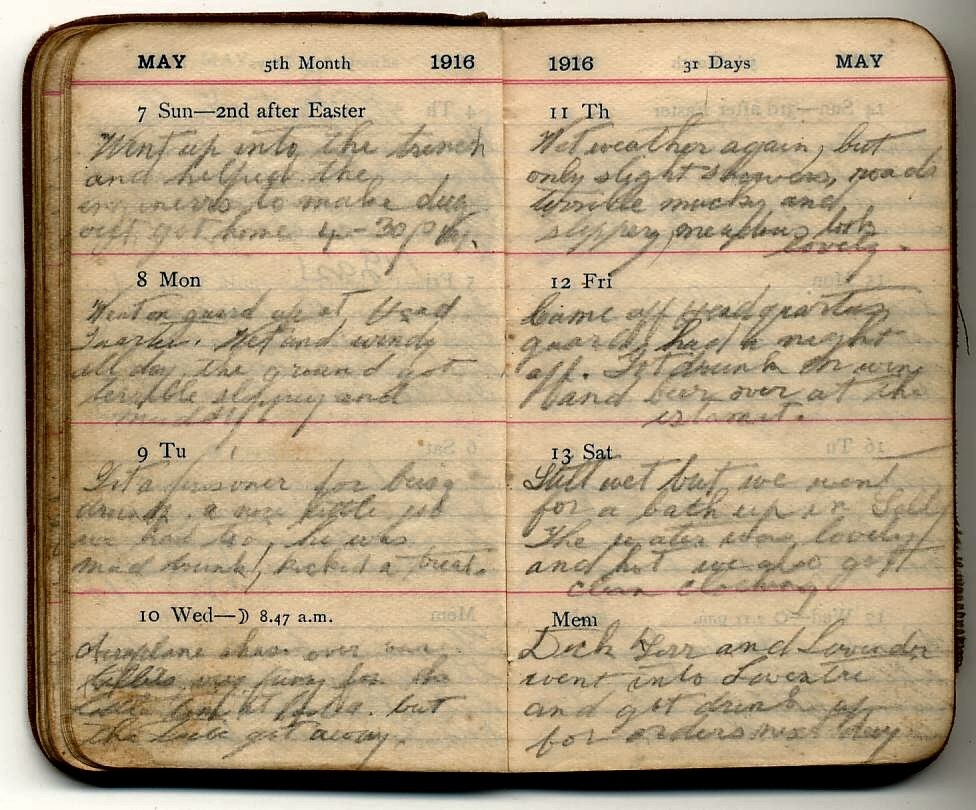 May 7 Sun Went up into the trench and helped the engineers to make dugouts. Got home 4.30pm.
8 Mon Went on guard up at Headquarters. Wet and windy all day. The ground got terrible sloppy and muddy.
9 Tu Got a prisoner for being drunk. A nice little job we had too, he was mad drunk, kicked a treat.
10 Wed Aeroplane chase over our billets.
11 Th Wet weather again but only slight showers, roads terrible mucky and slippery. Meadows look lovely.
12 Fri Came off headquarters guard, had a night off. Got drunk on wine and beer over at the estaminet.
13 Sat Still wet but we went for a bath up in Sailly. The water was lovely and hot, we also got clean clothing.
Mem (Dick Kerr and Lavender went into Laventie and got drunk, up for orders next day).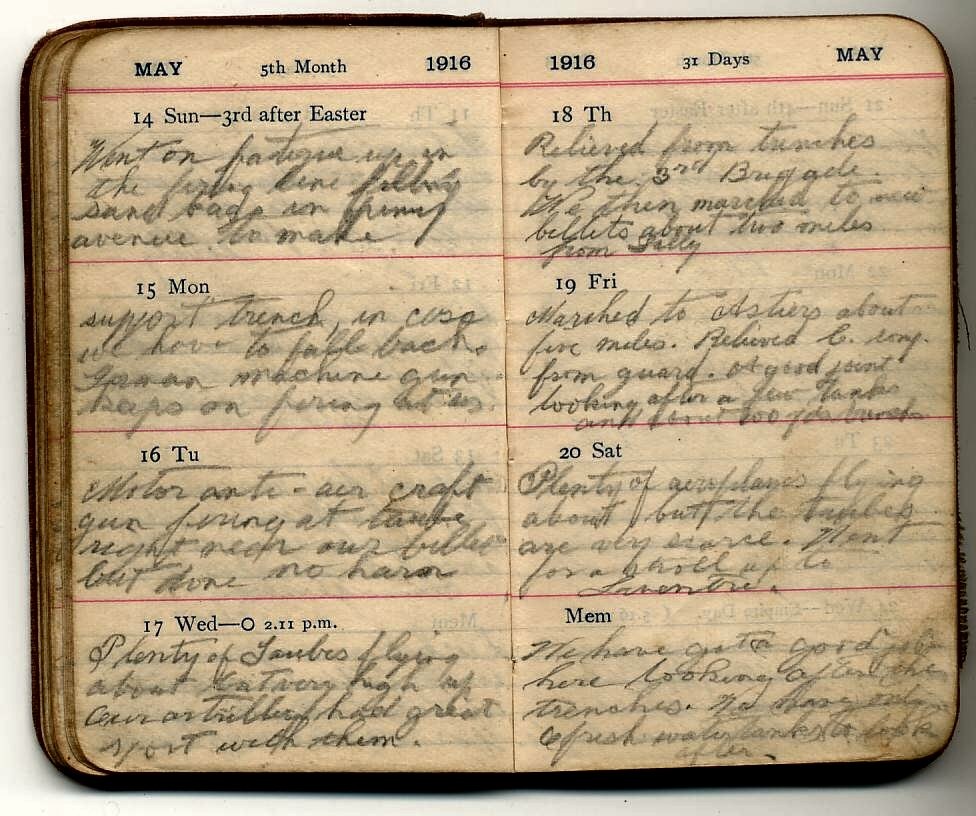 May 14 - 15 Sun, Mon Went on fatigue up in the firing line filling sand bags in ???? avenue to make support trench in case we have to fall back. German machine gun keeps on firing at us.
16 Tu Motor anti - air craft gun firing at right near our billet, but done no harm.
17 Wed Plenty of Taubes? flying about but very high up. Our artillery had great sport with them.
18 Th Relieved from trenches by the 3rd Brigade. We then marched to new billets about two miles from Sailly.
19 Fri Marched to Astiers (Estaires)? about five miles. Relieved C Company from guard. A good joint looking after a few tanks and about 600yd trenches.
20 Sat Plenty of aeroplanes flying about but the Taubes? are very scarce. Went for a stroll into Laventie.
Mem We have got a good job here looking after the trenches. We have only six fresh water tanks to look after.