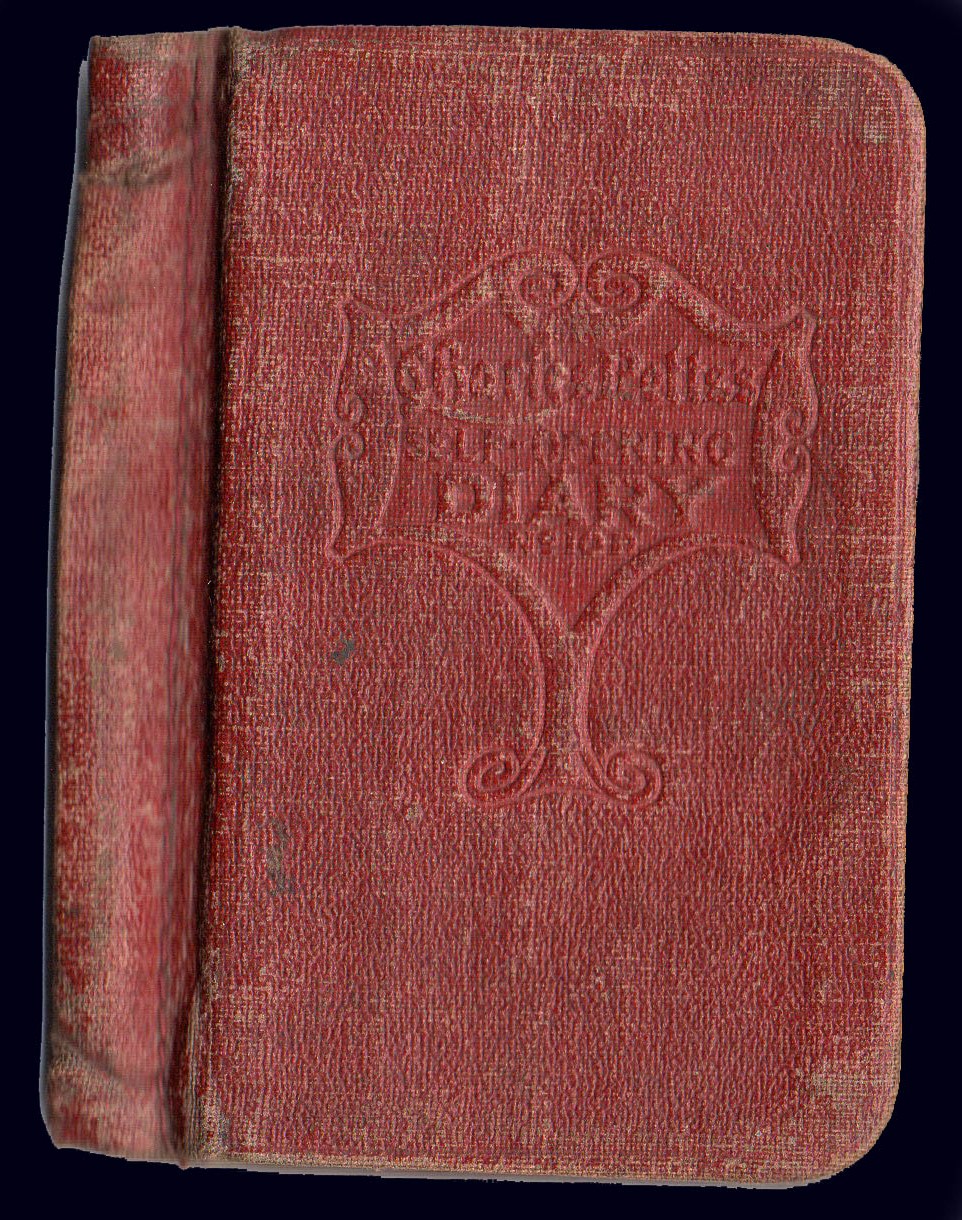 1915
1916
January 2 to March 25
March 26 to May 20
May 21 to July 15
July 16 to September 9
September 10 to November 4
November 5 to December 31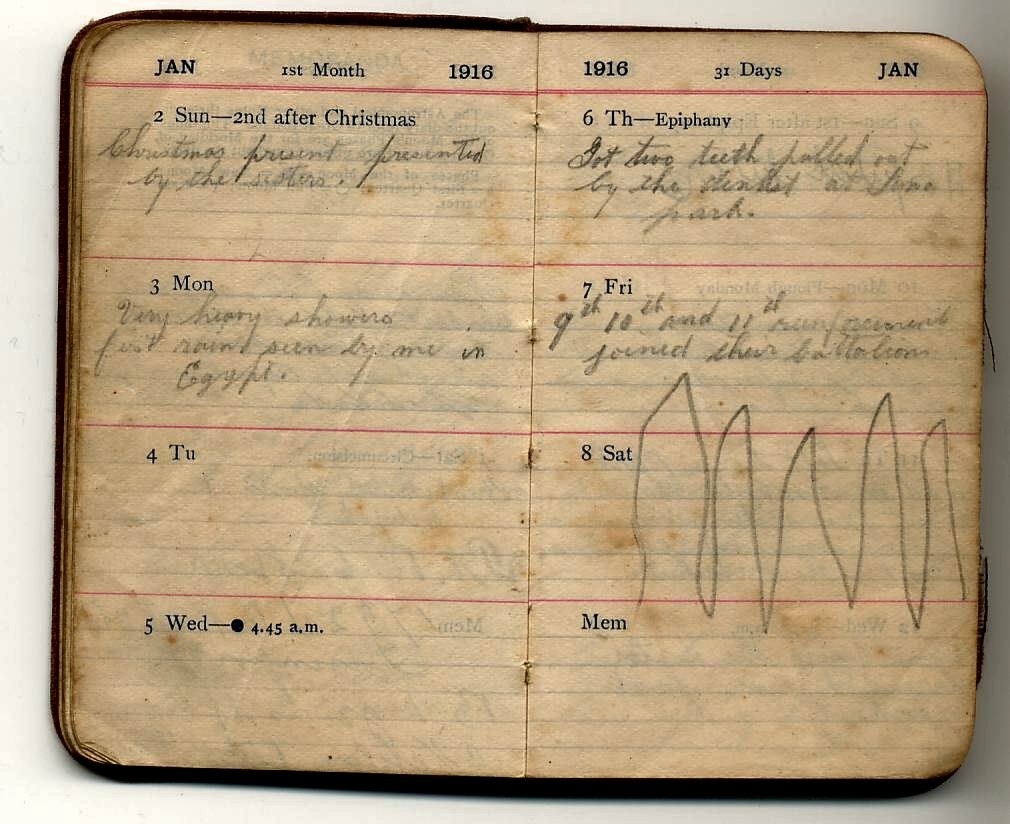 2 Sun Christmas present presented by the sisters.
3 Mon Very heavy showers - first rain seen by me in Egypt.
6 Th Got two teeth pulled out by the dentist at Luna Park
7 Fri 9th 10th & 11th reinforcements joined their battalion.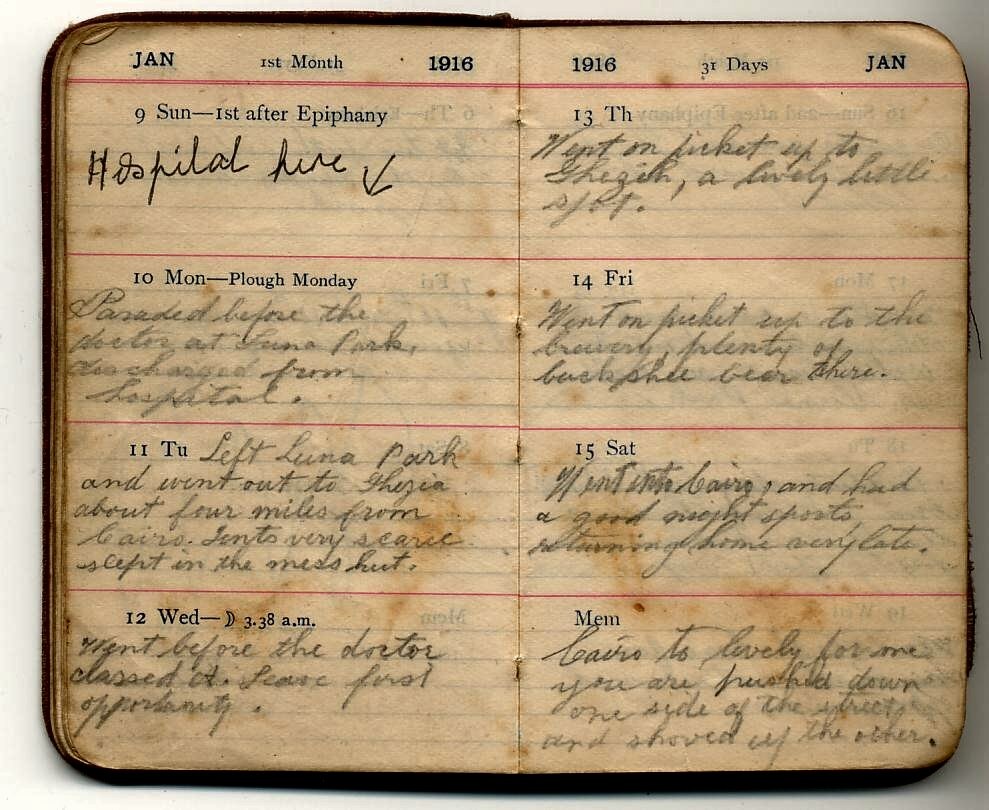 Jan 10 Mon Paraded before the doctor at Luna Park, discharged from hospital.
11 Tu Left Luna Park and went out to Giza about four miles from Cairo. Tents very scarce - slept in the mess hut.
12 Wed Went before the doctor, classed A. Leave first opportunity.
13 Th Went on picket up to Giza, a lovely little spot.
14 Fri Went on picket up to the brewery, plenty of buckshee beer there.
15 Sat Went into Cairo and had a good night sports returning home very late.
Mem: Cairo too lively for me, you are pushed down one side of the street and shoved up the other.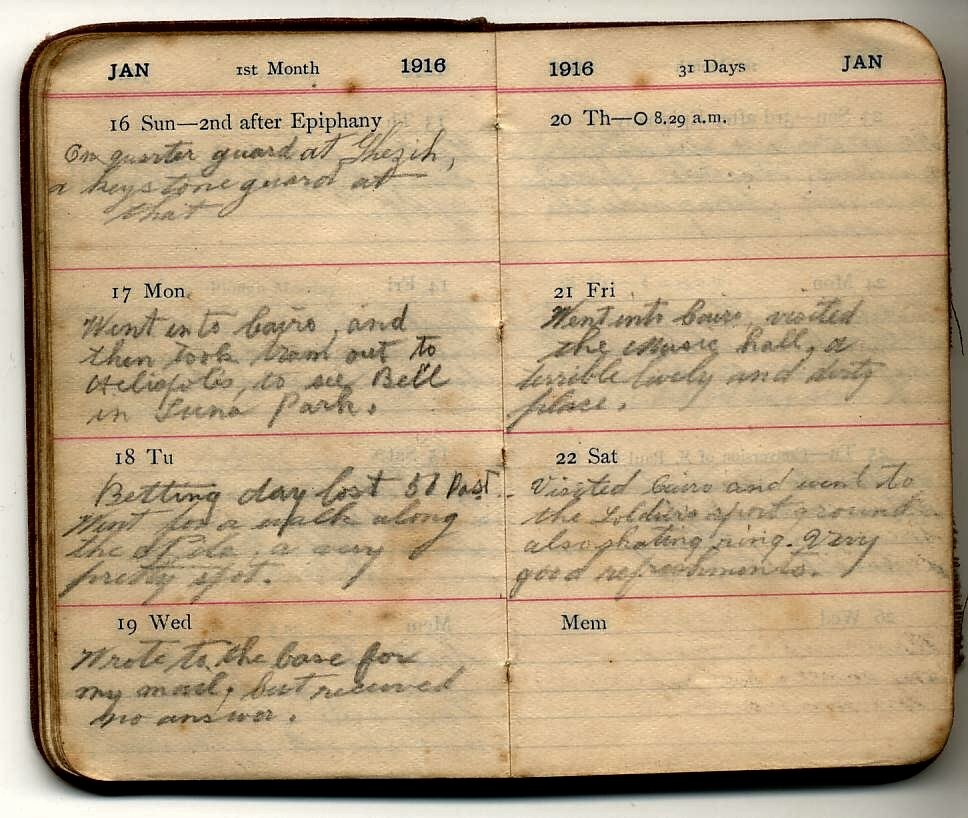 Jan 16 Sun On quarter guard at Giza, a keystone guard at that.
17 Mon Went into Cairo and then took tram out to Heliopolis to see Bill in Luna Park.
18 Tu Betting day lost 51 Piastre. Went for a walk along the Nile, a very pretty spot.
19 Wed Wrote to the base for my mail, but received no answer.
21 Fri Went into Cairo, visited the Music Hall, a terrible lively and dirty place.
22 Sat Visited Cairo and went to the soldier's sports ground, also skating rink. Very good refreshments.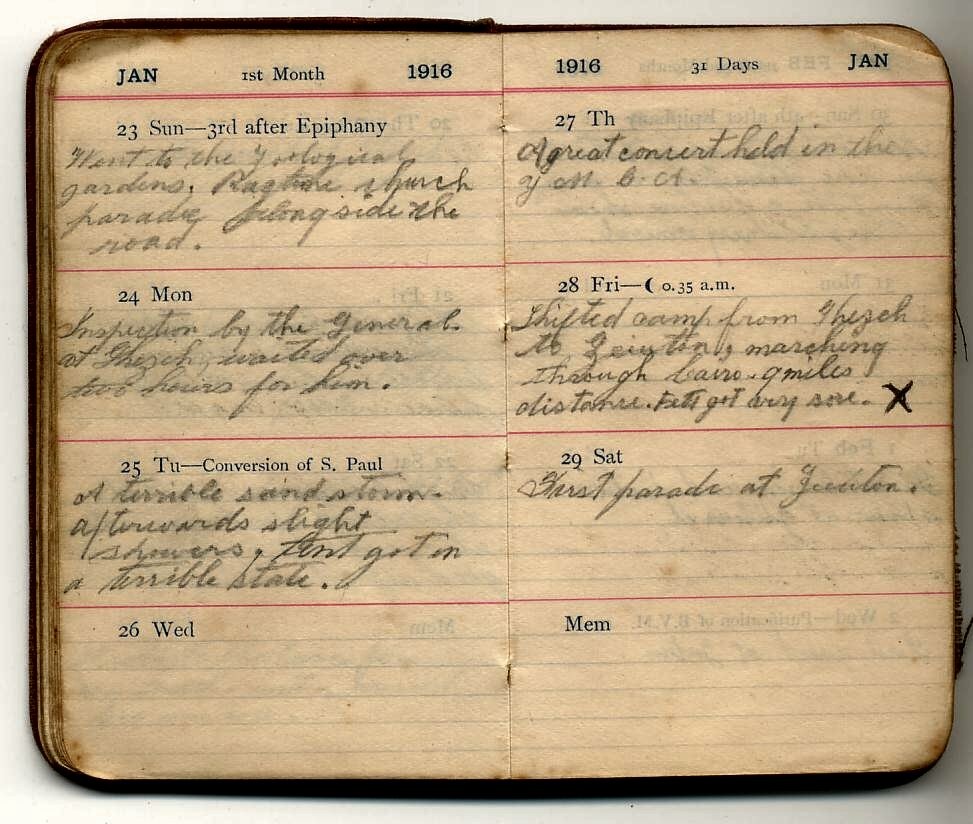 Jan 23 Sun Went to the Zoological gardens. Ragtime church parade alongside the road.
24 Mon Inspection by the General at Giza, waited over two hours for him.
25 Tu A terrible sandstorm afterwards slight showers, gent got in a terrible state.
27 Th A great concert held in the YMCA.
28 Fri Shifted camp from Giza to Zietoun, marching through Cairo, 9 miles distance. Feet got very sore.
29 Sat First parade at Zietoun.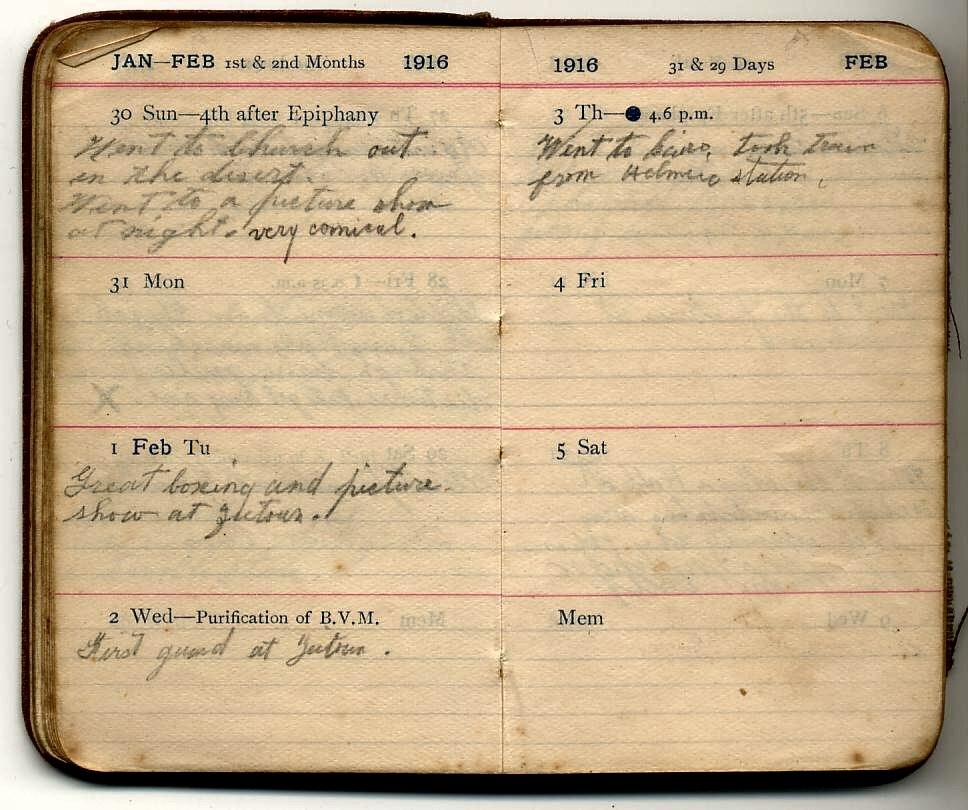 Jan 30 Sun Went to church out in the desert. Went to a picture show at night, very comical.
Feb 1 Tu Great boxing and picture show at Zietoun.
2 Wed First guard at Zietoun.
3 Thu Went to Cairo, took tram from Helmeic st.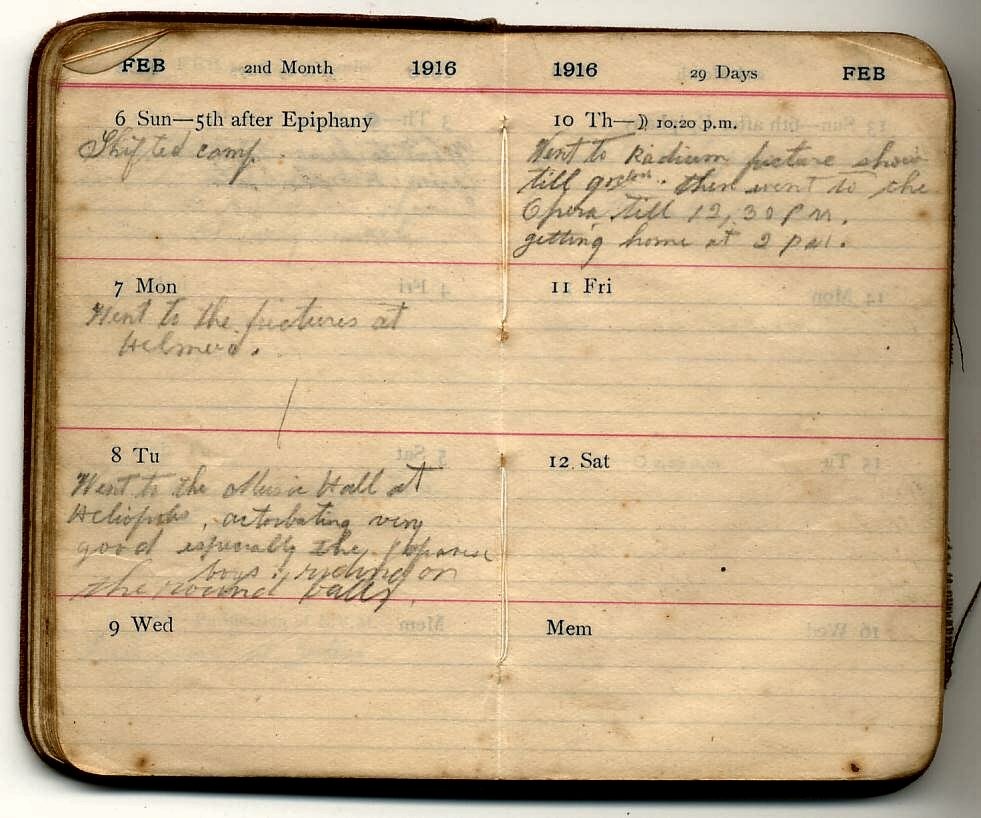 Feb 6 Sun Shifted camp.
7 Mon Went to the pictures at Helmeic st
8 Tue Went to the music hall at Heliopolis, Acrobating very good especially the boys riding on the round balls.
10 Th Went to the Radium picture show till 9 oclock then went to the opera till 12.30 getting home at 2am.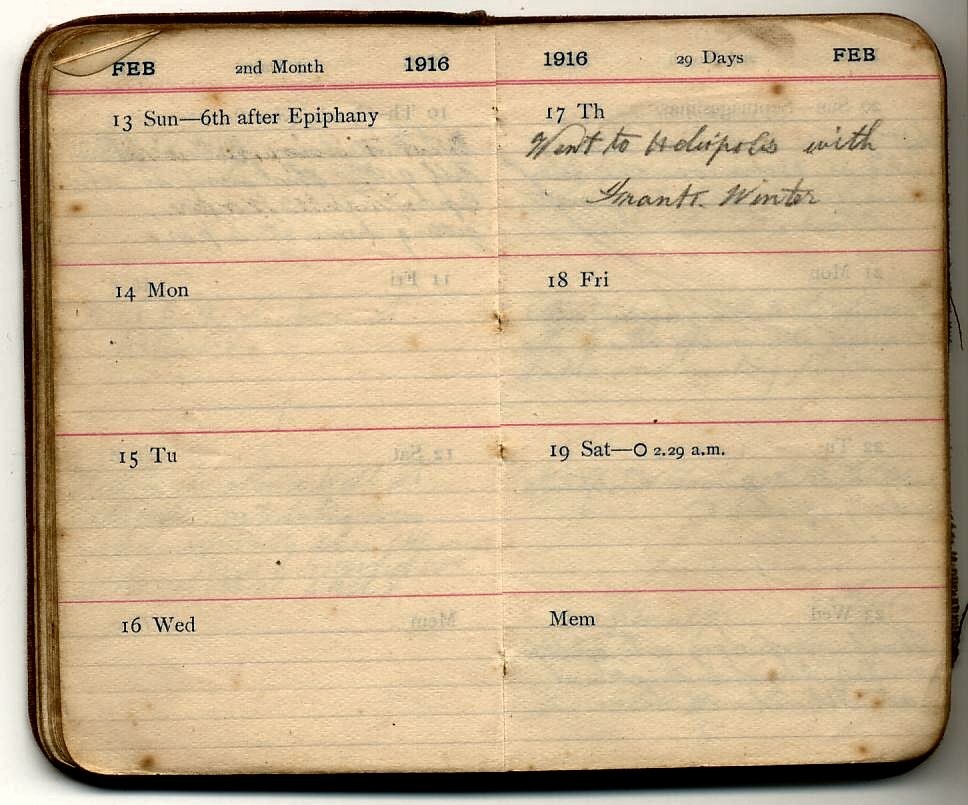 Feb 17 Th Went to Heliopolis with Frank Winter.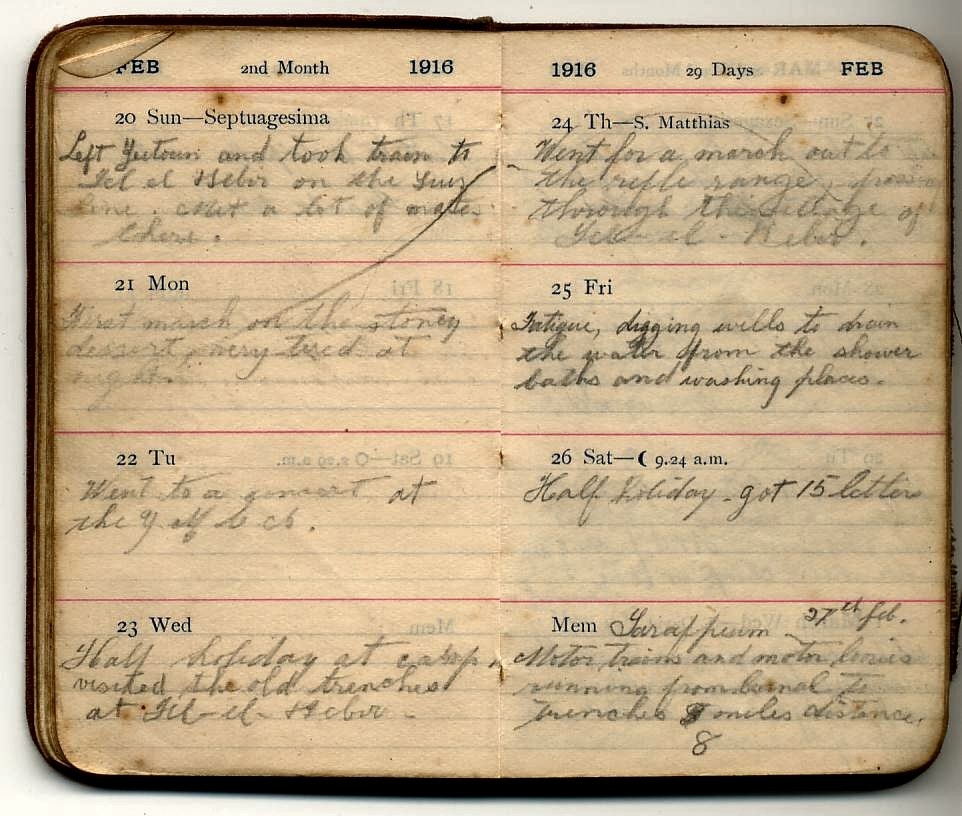 Feb 20 Sun Left Zietoun and took train to Tel-el-Kebir on the Suez line. Met a lot of mates there.
21 Mon First march on the stoney desert, very tired at night.
22 Tu Went to a concert at the YMCA.
23 Wed Half holiday at camp, visited the old trenches at Tel-el-Kebir.
24 Th Went for a march out to the rifle range, passing through the village of Tel-el-Kebir.
25 Fri Fatigue, digging wells to drain the water from the shower baths and washing places.
26 Sat Half holiday - got 15 letters.
27 Sun Serapeum motor trains and motor lorries running from canal to trenches 8 miles distance.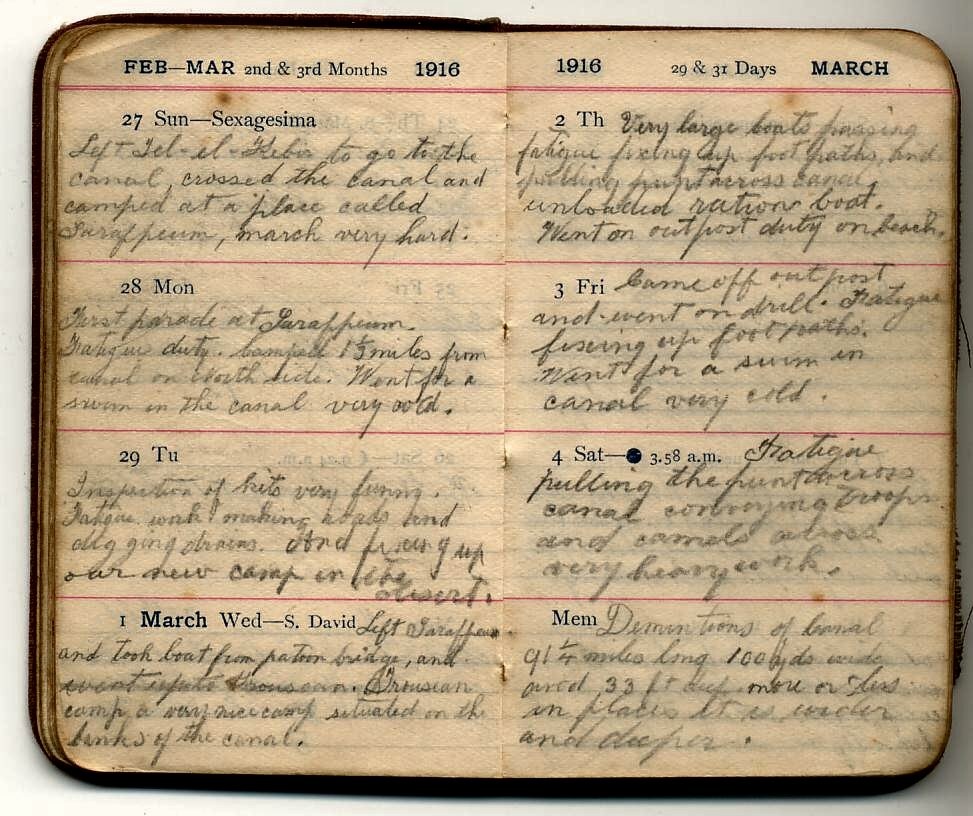 Feb 27 Sun Left Tel-el-Kebir to go to the canal and camped at a place called Serapeum, march very hard.
28 Mon First parade at Serapeum. Fatigue duty. Camped 1.5 miles from canal on north side. Went for a swim in the canal - very cold
29 Tu Inspection of kits very funny. Fatigue work making roads and digging drains, and fixing up our new camp in the desert.
March 1 Wed Left Serapeum and took boat from pontoon bridge and went up to Toussum. Toussum camp a very nice camp situated on the banks of the canal.
2 Th Very large boats passing. Fatigue fixing up footpaths and pulling punt across canal, unloaded ration boat. Went on outpost duty on beach.
3 Fri Came off outpost and went on drill. Fatigue fixing up footpaths. Went for a swim in canal, very cold.
4 Sat Fatigue pulling the punt across canal conveying troops and camels across. Very heavy work.
Mem Dimensions of canal - 91 1/4 miles long, 100 yards wide and 33 feet deep, more or less. In places it is wider and deeper.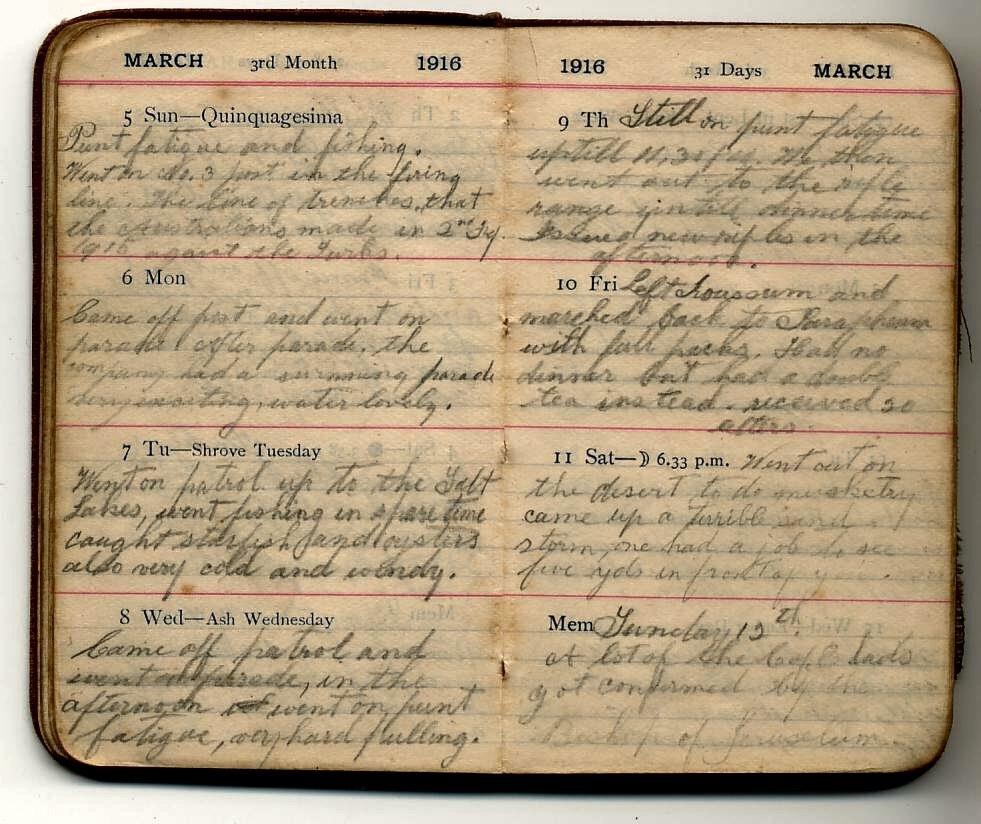 Mar 5 Sun Punt fatigue and fishing. Went on No 3 post in the firing line. The line of trenches that the Australians made in 2nd Feb? 1915 against the Turks.
6 Mon Came off post and went on parade. After parade the company had a swimming parade. Very exciting, water lovely.
7 Tu Went on patrol up to the Salt Lakes, went fishing in spare time, caught starfish and oysters, also very cold and windy.
8 Wed Came off patrol and went in parade, in the afternoon went on punt fatigue, very hard pulling.
9 Th Still on punt fatigue up till 11.30am. We then went out to the rifle range until dinner time. Issued new rifles in the afternoon.
10 Fri Left Toussum and marched back to Serapeum with full packs. Had no dinner but had a double tea instead. Received 20 letters.
11 Sat Went out on the desert to the musketry. Came up a terrible sand storm, one had a job to see five yards in front of you.
Mem 12 Sun A lot of C of E lads got confirmed by the Bishop of Jerusalem.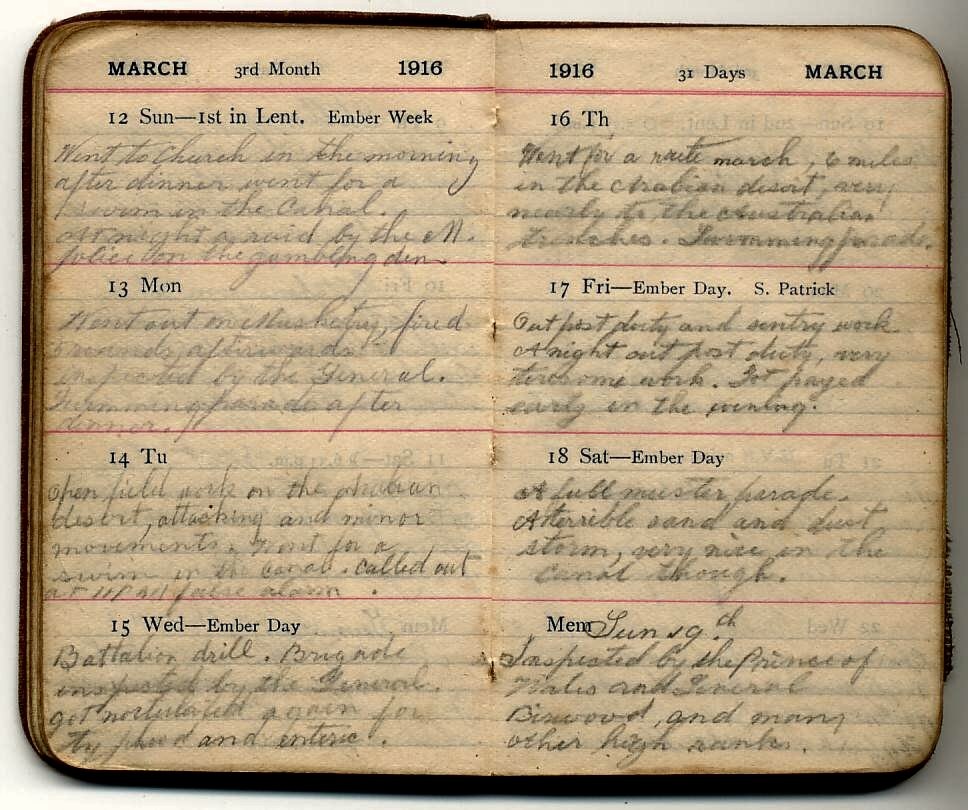 Mar 12 Sun Went to church in the morning. After dinner went for a swim in the canal. At night a raid by the M. police on the gambling den.
13 Mon Went out on musketry, fired 5 rounds, afterwards inspected by the General. Swimming parade after dinner.
14 Tu Open field work on the Arabian desert, attacking and minor movements. Went for a swim in the canal. Called out at 11pm - false alarm.
15 Wed Battalion drill. Brigade inspected by the General. Got innoculated again for typhoid and enteric.
16 Th Went for a route march, 6 miles in the Arabian desert, very nearly to the Australian trenches. Swimming parade.
17 Fri Out post duty and sentry work. A night out post duty very tiresome work. Got paid early in ther evening.
18 Sat A full muster parade. A terrible sand and dust storm, very nice in the canal though.
Mem 19 Sun Inspected by the Prince of Wales and General Birdwood and many other high ranks.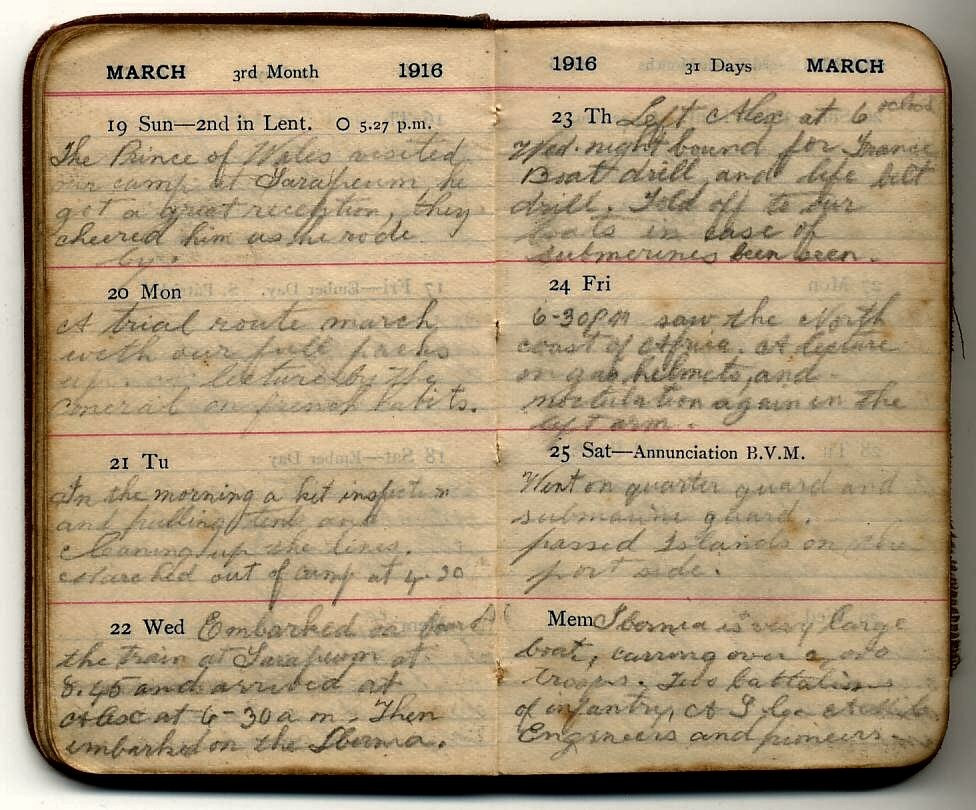 Mar 19 Sun The Prince of Wales visited our camp at Serapeum, he got a great reception, they cheered him as he rode.
20 Mon A trial route march with our full packs up. A lecture by the General on French habits.
21 Tu In the morning a kit inspection and pulling tents and cleaning up the lines. Marched out of camp at 4.30.
22 Wed Embarked on board the train at Serapeum at 8.45 and arrived at Alex at 6.30am. Then embarked on the 'Ivernia'.
23 Th Left Alex at 6 oclock Wed night (22nd) bound for France. Boat drill and life belt drill. Told off to our boats in case of submarines being seen.
24 Fri 6.30 pm saw the north coast of Africa. A lecture on gas helmets and innoculation again in the left arm.
25 Sat Went on quarter guard and submarine guard. Passed islands on the port side.
Mem Ivernia is a very large boat carrying over 2000 troops. Two battalions of infantry and ????? engineers and pioneers.
Luna Park was taken over as a hospital in April 1915