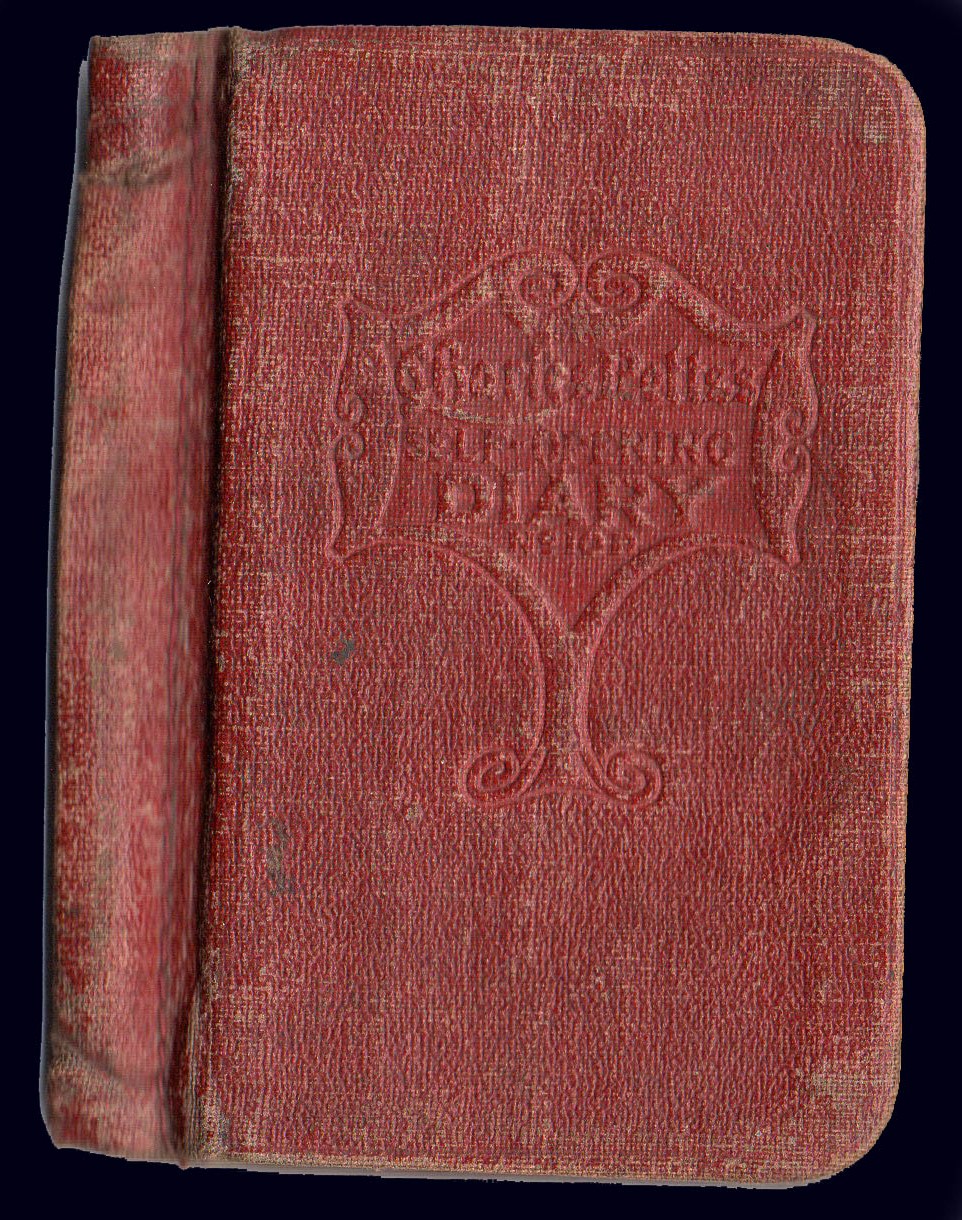 1915
1916
January 2 to March 25
March 26 to May 20
May 21 to July 15
July 16 to September 9
September 10 to November 4
November 5 to December 31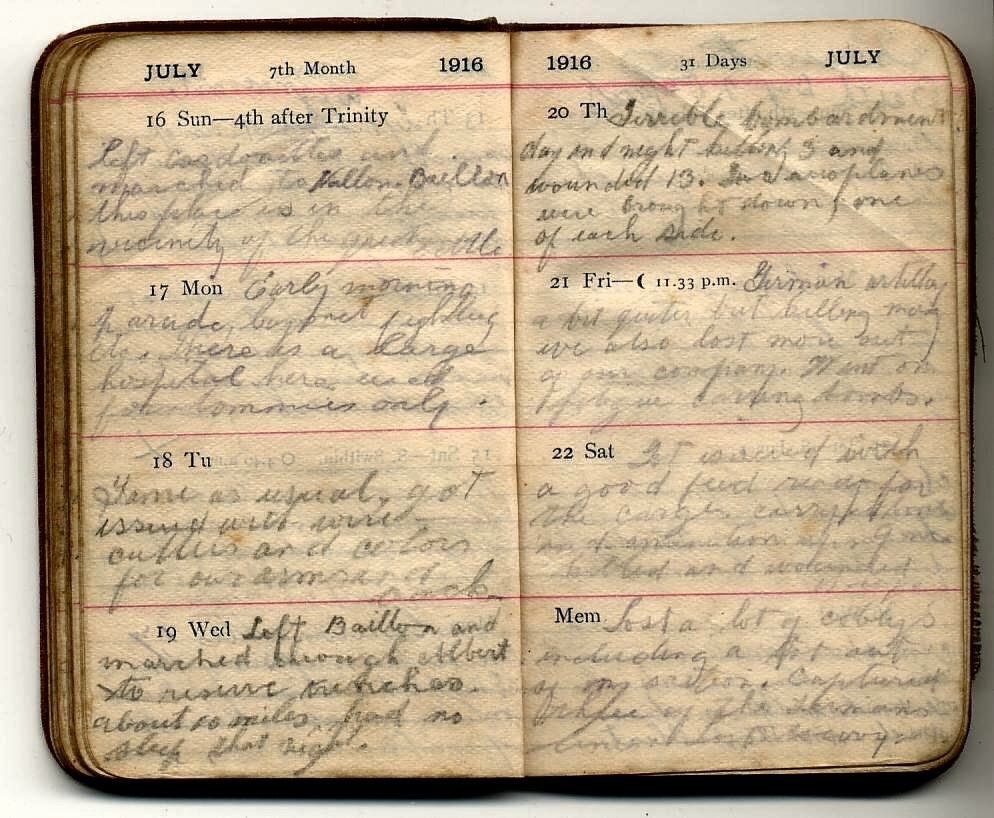 July 16 Sun Left Cardonettes and marched to Warloy-Baillon, this place is in the vicinity of the great battle.
17 Mon Early morning parade, bayonet fighting etc. There is a large hospital here used for Tommies only.
18 Tu Tame as usual, got issued with wire cutters and colours for our arms and back.
19 Wed Left Warloy-Baillon and marched through Albert to reserve trenches about 10 miles. Had no sleep that night.
20 Th Terrible bombardment day and night killing 3 and wounding 13. Two aeroplanes were brought down, one of each side.
21 Fri German artillery bit quieter but killing many. We also lost more out of our company. Went on fatigue carrying bombs.
22 Sat Got issued with a good feed ready for the charge. Carried bombs and ammunition. 9 men killed and wounded today.
Mem Lost a lot of cobbys including a lot out of my section. Captured three of the Germans.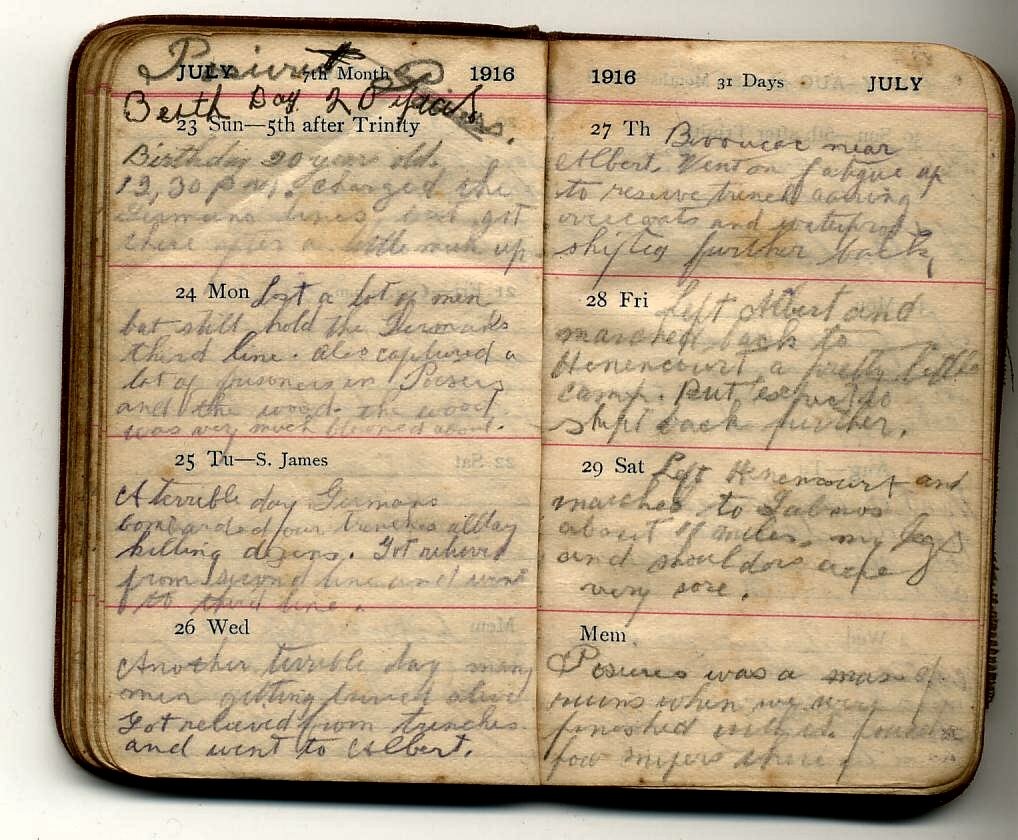 July 23 Sun Birthday, 20 yrs old. 12.30 pm am?? charged the German lines and got there after a little muck up.
24 Mon Lost a lot of men but still held the German third line. Also captured a lot of prisoners in Pozieres and the wood. The wood was very much blowed about.
25 Tu A terrible day. Germans bombarded our trenches all day killing dozens. Got relieved from second line and went to third line.
26 Wed Another terrible day, many men getting burned alive. Got relieved from trenches and went to Albert.
27 Th Bivouac near Albert. Went on fatigue up to reserve trench taking?? overcoats and waterproofs. shifted further back.
28 Fri Left Albert and marched back to Henercourt, a pretty little camp. But expect to shift back further.
29 Sat Left Henencourt and marched to Talmas about 11 miles. My legs and shoulders ache, very sore,
Mem Pozieres was a mass of ruins when we were finished with it - found a few snipers there.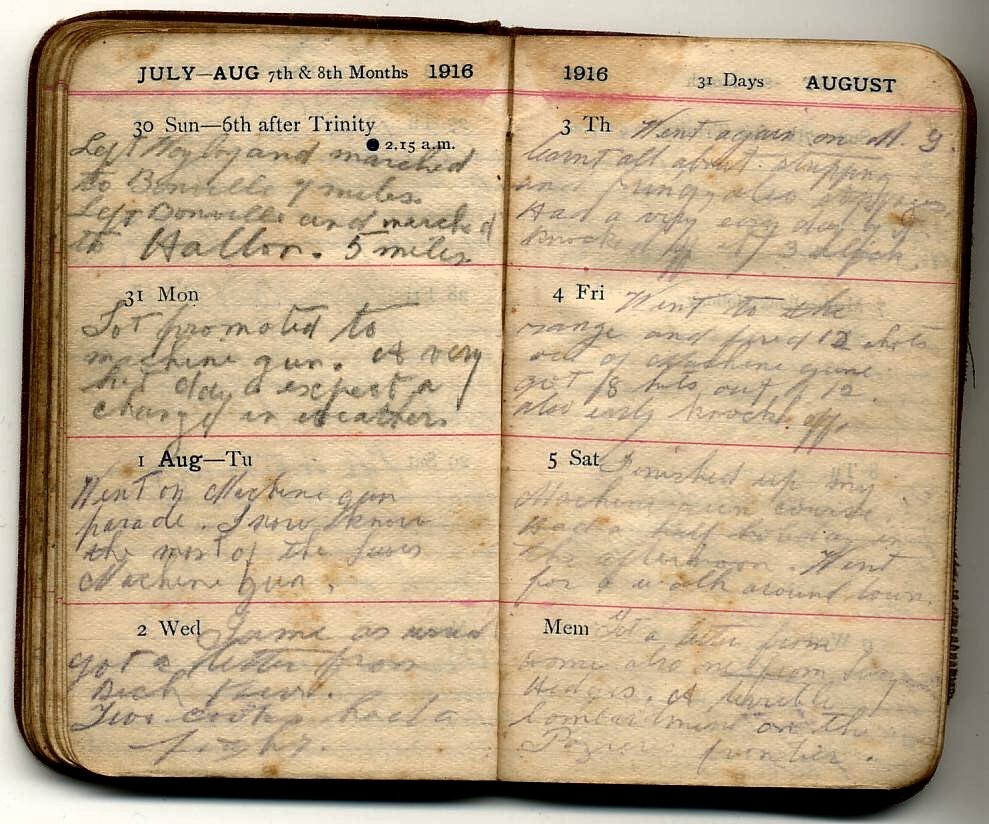 July 30 Sun Left Talmas and marched to Bonville (Beauville?) 7 miles. Left Bonville and marched to Halloy 5 miles.
31 Mon Got promoted to machine gun. A very hot day expect a change in the weather.
Aug 1 Tu Went on machine gun parade. I now know the most of the Lewis machine gun.
2 Wed Same as usual. Got a letter from Dick. Two cooks? had a fight.
3 Th Went again on machine gun learnt all about stripping and firing, also stoppages. Had a very easy day of it, knocked off 3oclock.
4 Fri Went to the range and fired 12 shots out of machine gun. Got 8 hits out of 12 - early knock off.
5 Sat Finished up my machine gun course. Had a half holiday in the afternoon. Went for a walk around town.
Mem Got a letter from home also one from Lucy Hidges. A terrible bombardment on the Pozieres frontier.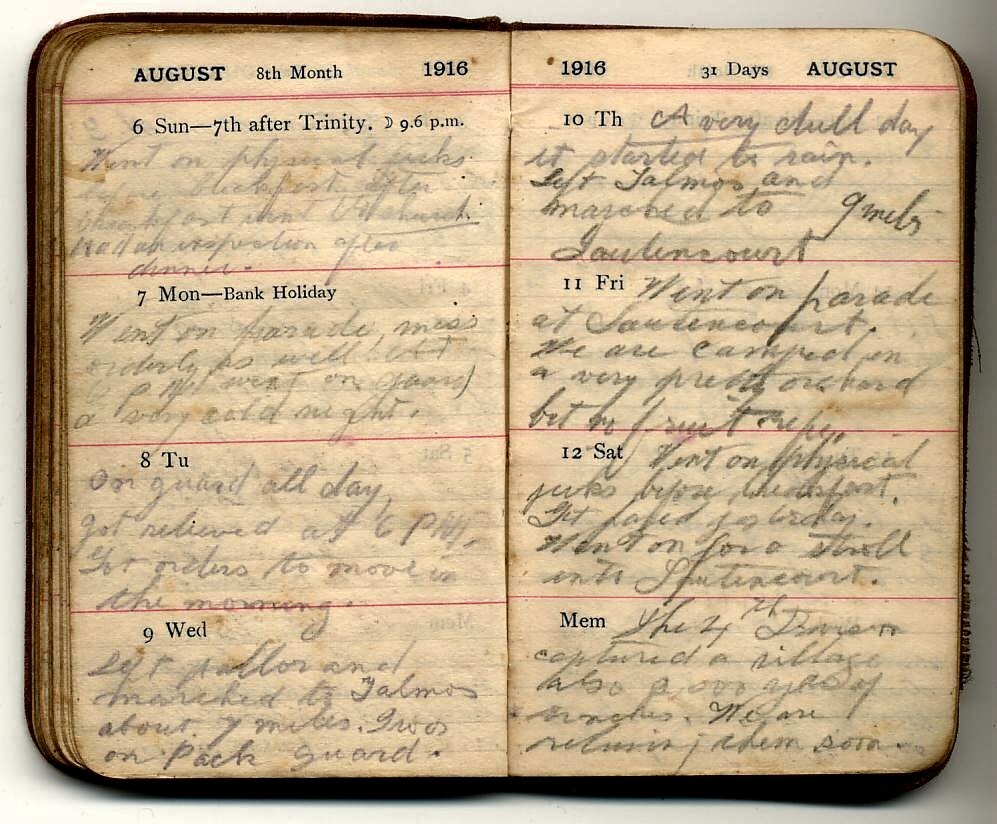 Aug 6 Sun Went on physical jerks before breakfast. After breakfast went to church. Had an inspection after dinner.
7 Mon Went on parade, mess orderly as well. At 6pm went on guard. A very cold night.
8 Tu On guard all day. Got relieved at 6pm. Got orders to move in the morning.
9 Wed Left Halloy and marched to Talmas about 7 mls. I was on pack guard.
10 Th A very dull day. It started to rain. Left Talmas and marched to Louvencourt? - 9 miles.
11 Fri Went on parade at Louvencourt. We are camped in a very pretty orchard but no fruit ripe.
12 Sat Went on physical jerks before breakfast. Got paid yesterday. Went out for a stroll into Louvencourt.
Mem The 4th Division captured a village also 2000 yds of trenches. We are returning to them soon.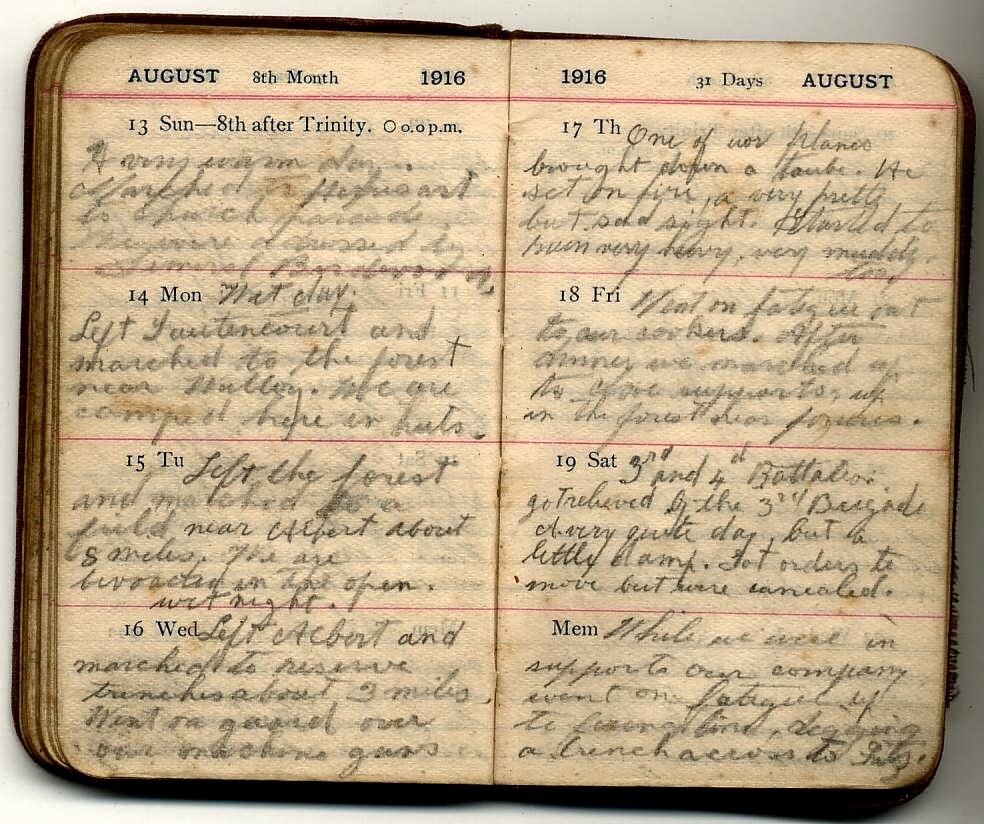 Aug 13 Sun A very warm day. Marched to Herissart church parade. We were addressed by General Birdwood.
14 Mon Wet day. Left Louvencourt and marched to the forest near Halloy. We are camped here in huts.
15 Tu Left the forest and marched to a field near Albert about 8 miles. We are bivouacked in the open, wet night. (notation near back of diary "transferred to machine gun section")
16 Wed Left Albert and marched to reserve trenches about 3 miles. Went on guard over our machine guns.
17 Th One of our planes brought down a Taube. He set on fire, a very pretty but sad sight. Raining very heavily, very muddy too.
18 Fri Went on fatigue out to our cookers. After dinner we marched up to close supports, up in the forest near Pozieres.
19 Sat 3rd and 4th Battalions got relived by the 3rd Brigade. A very quiet day but a little damp. Got orders to move but were cancelled.
Mem While we were in supports our company went on fatigue up to firing line, digging a trench up to Fritz.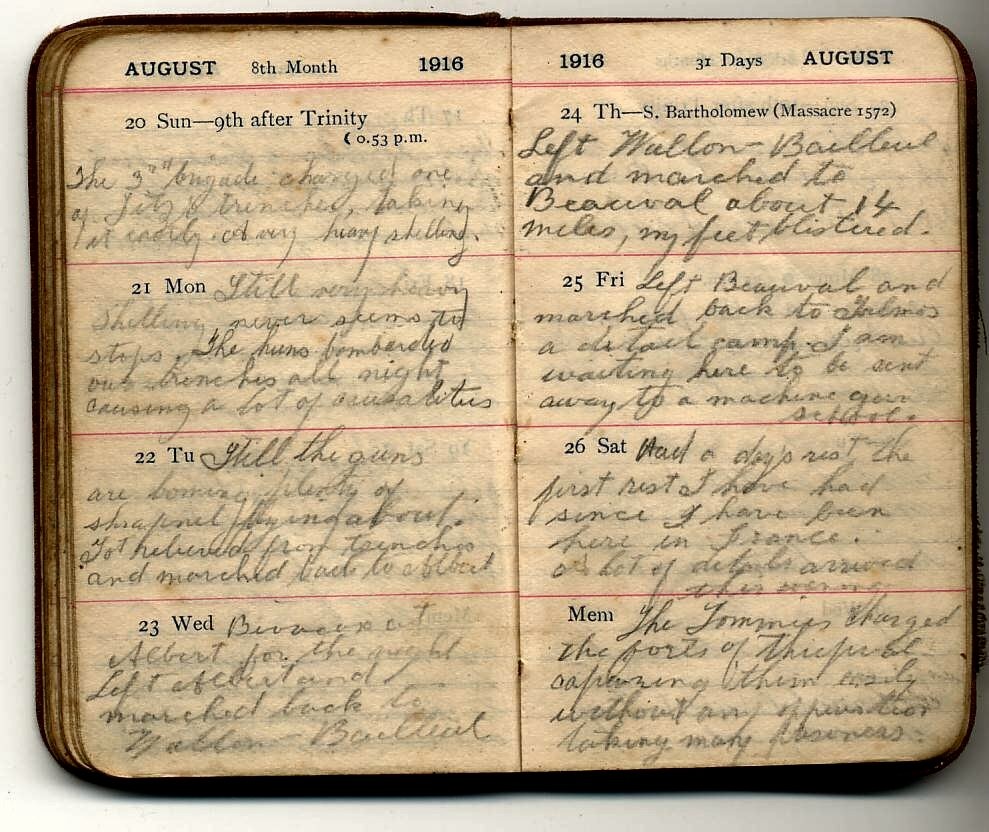 Aug 20 Sun The 3rd Brigade charged one of Fritz's trenches taking it easily. A very heavy shelling.
21 Mon Still very heavy shelling, never seems to stop. The Huns bombarded our trenches all night causing a lot of casualties.
22 Tu Still the guns are booming, plenty of shrapnel flying about. Got relieved from trenches and marched back to Albert.
23 Wed Bivouac at Albert for the night. Left Albert and marched back to Warloy-Baillon.
24 Th Left Warloy-Baillon and marched to Beauval about 14 miles, my feet blistered.
25 Fri Left Beauval and marched back to Talmas, a detail camp. I am waiting here to be sent away to a machine gun school.
26 Sat Had a days rest the first rest I have had since I have been here in France. A lot of details arrived this evening.
Mem The Tommies charged the forts of Thiepval capturing them easily without any opposition taking many prisoners.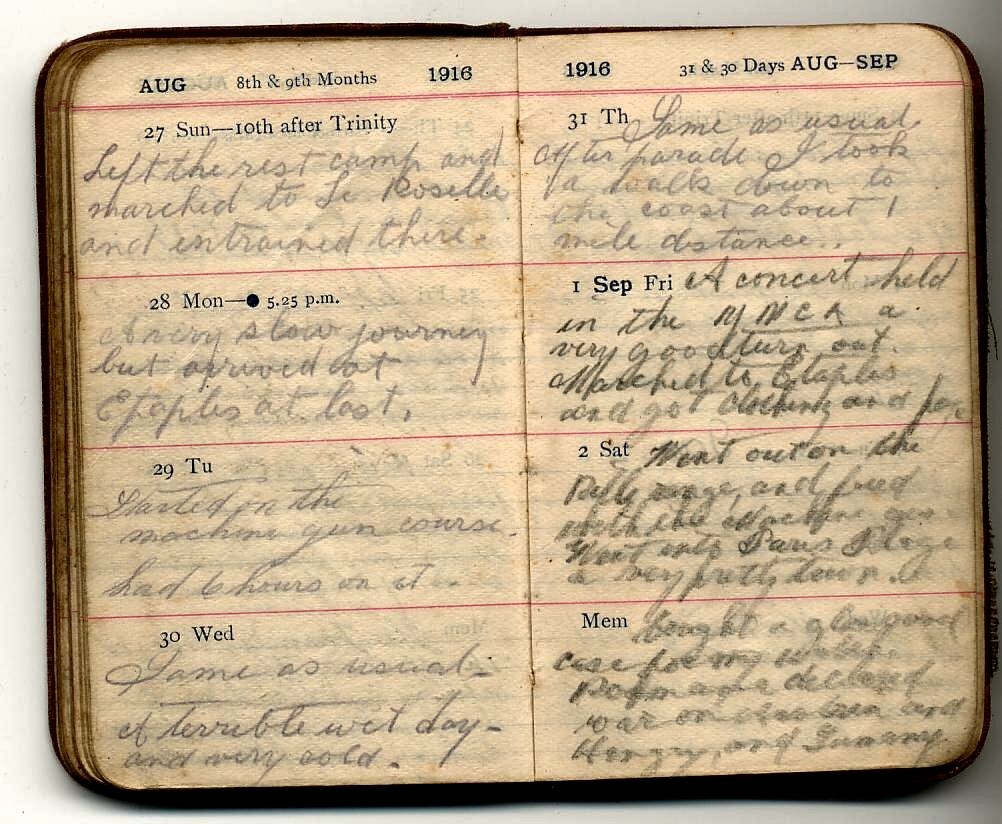 Aug 27 Sun Left the rest camp and marched to Le Roselle? and entrained there.
28 Mon A very slow journey but arrived at Etaples at last.
29 Tu Started on the machine gun course, had 6 hours on it.
30 Wed Tame as usual. A terrible wet day and very cold.
31 Th Tame as usual. After parade I took a walk down to the coast about 1 mile distance.
Sept 1 Fri A concert held in the YMCA, a very good turnout. Marched to Etaples and got clothing and pay.
2 Sat Went out on the rifle range and fired with the machine gun. Went into Paris Plage (Le-Touquet-Paris-Plage?) a very pretty town.
Mem Bought a ??good case for my watch. Romania declared war on Austria and Hungary and Germany.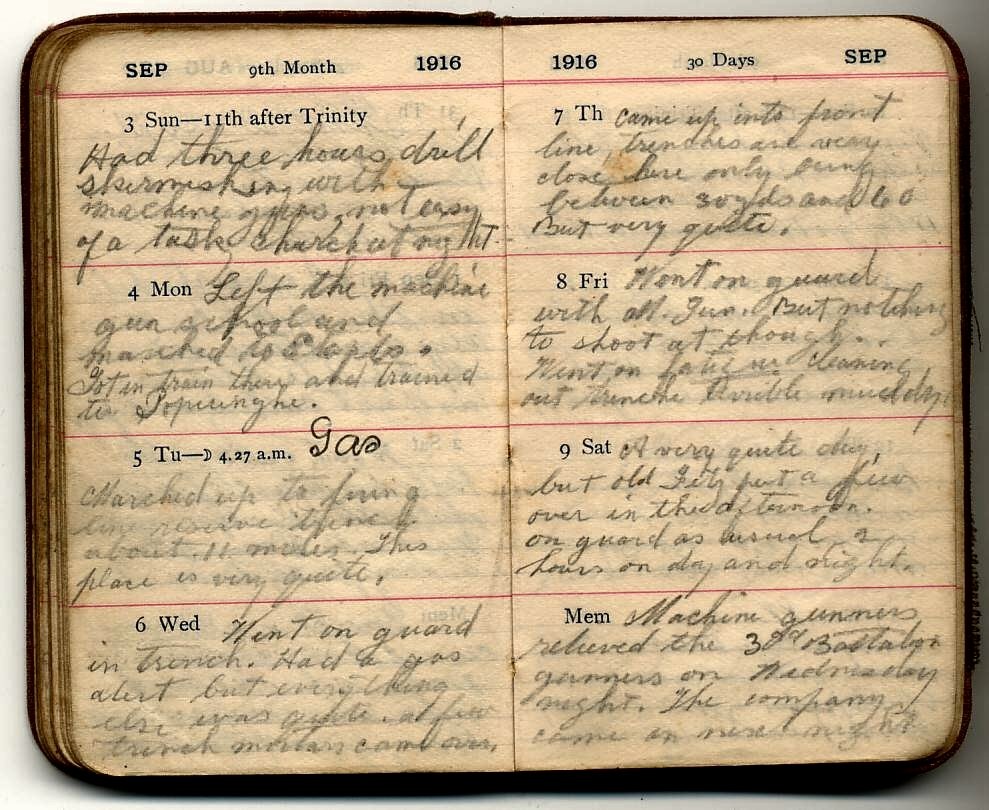 Sept 3 Sun Had 3 hours drill skirmishing with machine guns, not easy task. Church at night.
4 Mon Left the machine gun school and marched to Etaples. Got in train there and trained to Poperinghe.
5 Tu Marched up to firing line reserve trench about 11 miles. This place is very quiet.
6 Wed Went on guard in trench. Had a gas alert but everything else was quiet. A few trench mortars came over.
7 Th Came up into front line, trenches are very close here only about 30 yds and 60 between. But very quiet.
8 Fri Went on guard with machine gun, but nothing to shoot at though. Went on fatigue cleaning out trenches, terribly muddy.
9 Sat A very quiet day but old Fritz put a few over in the afternoon. On guard as usual, 2hrs on day and night.
Mem Machine gunners relieved the 3rd Battalion gunners on Wednesday night. The company came in next night.