New - sign the

View this page at 1024x768

This page last updated July 2013.

Please contact me for comment or if you can help with extra information.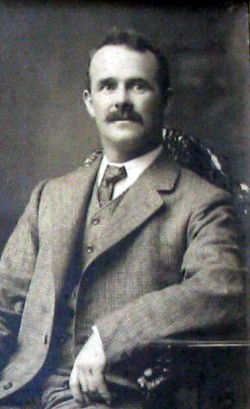 Captain George Rochester about 1908
Captain George Rochester
1874 - 1950 The following was written by Capt. George Rochesters daughter Hetty about her visit to South Georgia on the 'Sound of Jura' in January 1916.

South Georgia


'A glowing ball of flame rising from the depths of the ocean, & a shadowy grey-black mass of rock coming slowly into view in the first flushed glimmering of an Antarctic dawn. This was my impression of South Georgia, about which we are hearing so much just now, as I first saw it from the poop of a windjammer at 2am on 6th January 1916. To the lover of the solitary & awesome in nature, South Georgia appears with a strange, inspiring attraction. There is something in the grandeur of the snow clad hills, rising up sheer from the sea to a height in some places of 5,000ft, which grips & holds one, & creates a bond of affection which is not easily snapped'.


---------


'Yes, South Georgia has a charm which is all its own. May its eternal snows lie lightly on the grave of the gallant spirit soon to be laid to rest there'.


(written February 14th 1922)

Both Capt. Rochester & Hetty would have had great personal interest in Sir Ernest Shackleton. When Shackleton, Worsley & Crean, reached civilisation at Stromness at the end of their incredible journey from Elephant Island, they were housed & made welcome by the same Capt. Sorlle with whom Hetty & her father were so well acquainted.
The whaler 'Southern Sky', which was used by Shackleton on his first rescue attempt, was well known to them, as it had been at Port Alexander during their two month stay in 1915, & had helped tow them to Cape Town. 'Southern Sky' was also one of the whalers working from Prince Olaf Harbour during their visit in 1916.
And of course Capt. Rochester had personally entertained the famous Australian photographer from the Endurance expedition, Frank Hurley, on the 29th & 30th March 1917, when Hurley had returned to South Georgia on a filming expedition. While he was on a sortie on the whale catcher 'Mathilde', Frank Hurley had enjoyed meals and played euchre with Capt. Rochester, and had been given an inspection tour of the new whaling station under construction while sharing the moorings at Prince Olaf Harbour with the 'Sound of Jura'. No doubt Frank Hurley would have been much respected by Capt. Rochester, and, having read in some of Frank Hurley's diary his respect for seamanship, the 15 year career of Capt. Rochester as a Master of windjammers, would have meant the respect was mutual.