BACK TO MAIN FAMILY TREE PAGE
New - sign the

View this page at 1024x768

This page last updated September 2013.

If you can help with any info please contact me.

Family Tree of McIntosh Boatbuilders
Lachlan McIntosh
Crofter - Inverness

married
17/2/1741 - Keith

Elspet Littlejohn
Daughter of James Littlejohn and Janet Jackson
Children
James (b.24/12/1741) Margaret (b.12/7/1746) Elizabeth (b.abt 1753) John (b.9/9/1756)
All born Keith
John McIntosh (1)
Crofter - Keith
(b.9/9/1756 Grange, Keith)

married
1/12/1785 - Keith

Elspet Garrow
Children
Margaret (b.9/4/1787) Isobel (b.6/2/1790) Beatrix (b.27/5/1792) John (b.14/1/1795) William (b.3/4/1797) Agnes (b.7/7/1800)
All born Keith
John McIntosh (2)
Boatbuilder
(b.14/1/1795 Keith) - (d.1/4/1876 Portessie)

married (1)
14/3/1818 - Cullen

Elspet Robertson
(b.10/6/1792) - (d.9/12/1838 - Portessie)
Daughter of John Robertson & Katherine McKiddie
Children
John (b.3/7/1818) Elspet (b.29/3/1820) William (b.9/4/1821) Catherine (b.9/10/1825) Isabella (b.9/5/1827)
All born Cullen
John McIntosh (2)
Boatbuilder
(b.14/1/1795 Keith) - (d.1/4/1876 Portessie)

married (2)
23/7/1844 - Rathven

Helen Henry
(b.1796 - Fordyce)
Widow of G. Clark
William McIntosh (1)
Boatbuilder
(b.9/4/1821 Cullen) - (d.27/12/1893 Portessie)

married


Jane Clark
(d.17/7/1908 Portessie)
Aged 89 yrs
Children
Elspet (b.1844) John (b.1845) George A. (b.1848) Jane (b.1851) William R. (b.1853) Margaret (b.1859) Job Allan (b.1861)
All born Rathven
William Robertson McIntosh
Shipbuilder
(b.1853 Portessie) - (d.24/9/1927 Portessie)

married

Jessie A. Robertson
(b.) - (d.20/3/1923 - Portessie, aged 66yrs)
Children
William (b.1880 Portessie d.16/8/1956 Portessie) Jane 'Jeannie' (b.Ianstown d.12/1/1967 - did not marry) George (b.? Ianstown d.30/1/1957 Durban) Margaret (Maggie) (b.26/2/1888 Portessie d.3/2/1984 Elgin) Hannah (b.Ianstown d.2/7/1969 - did not marry)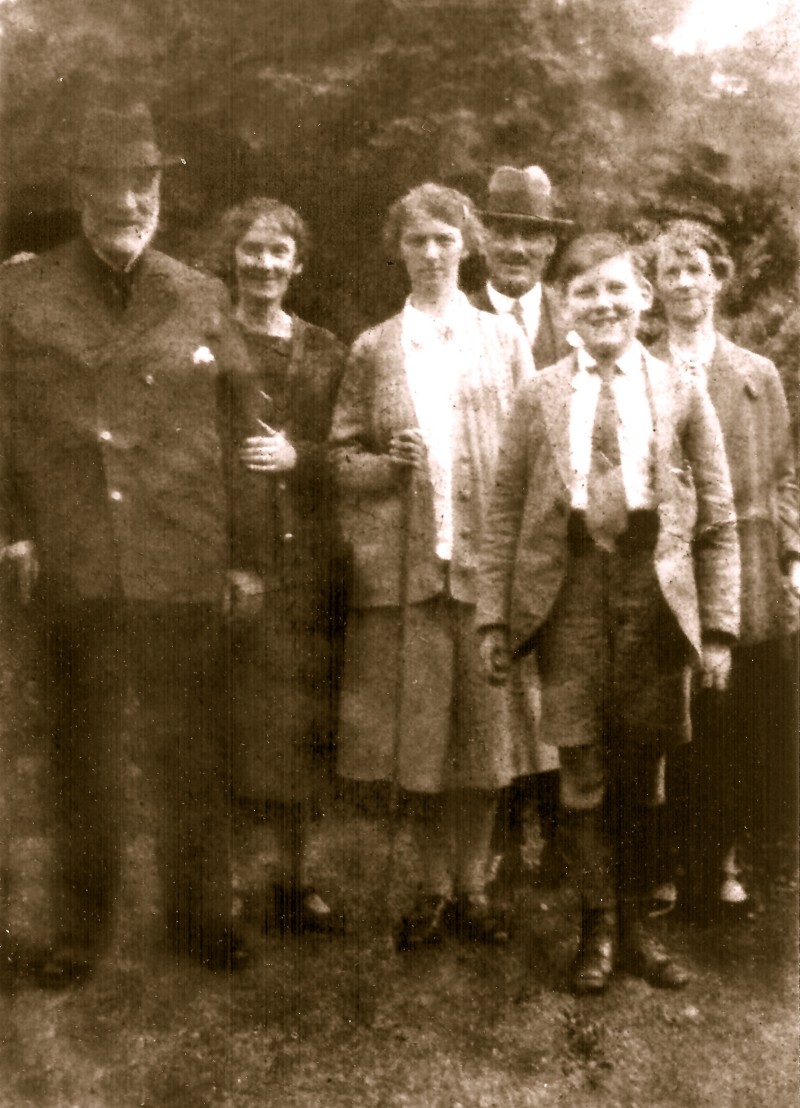 This photo was contributed by Ian McIntosh & was probably taken in the mid 1920's.
From L to R - William Robertson McIntosh, Maggie (Margaret), Hannah, William McIntosh, William Geddes McIntosh and Jeannie (Jane).
The following was compiled by Ian McIntosh (grandson of William b.1880)

William Robertson McIntosh married Jessie Ann Robertson (a farmers daughter) on 2nd January 1879 at Old Machar in Aberdeen. (I am not aware of any relationship between this Robertson family and the paternal grandmother of William R and John McIntosh.)

1. Their first child was William, my grandfather, who worked in his fathers firm.

2. Their second child, Jane (or Jeannie) seems to have remained living in her parents home during and after their lifetimes. She never married, and I dont know whether she had any formal higher education. She played the organ in the local Methodist Chapel, and I believe gave some music lessons. Around age 40, or perhaps around the time of her fathers death, she became an invalid; none of the next generation were aware of the nature of her medical problem but she died well into her 80s having spent half her life in bed. For many years she had lived in the home of her parents with her younger sister, Hannah, and then she lived with her other sister, Maggie.

3. George McIntosh was born some 5 years later than William. In the family he was known as Dod. I understand that around 1910 or 1911 he emigrated to South Africa, as he felt his prospects in Buckie were poor. He must have been involved with his fathers firm, as its name was W.R.McIntosh & Sons (ie plural sons, rather than singular son). I suspect that he was married when he left, as his first wife was Helen (Nellie) Lobb, and both her proper and informal names were known to the family in Buckie. By this wife he had 3 children, George, John and Margaret. He remarried (the second wife was called Christina) and had 3 further children - Harold, Stanley and Jean. I know no more.

4. Margaret (Maggie) was the second daughter. She married a wealthy draper, whose surname was Sim. They lived in a large house in grounds in Banff (now owned by the local authority) and his business was on the other side of the river in Macduff. He died only a few years after their marriage, leaving Maggie a childless widow, but very comfortably off. Meantime George in South Africa was struggling financially with a large family and never came back to UK. However the youngest of his children by his first wife, Margaret, came to Scotland as a child and was brought up by Maggie in Banff. The family in Buckie do not know whether there was a formal adoption. Maggie saw to the childs education and met the costs of her time at university. Margaret returned to live in South Africa as an adult, but came regularly to UK to see Maggie at Maggies expense.
Added by Glenn McIntosh - Sometime in her later years Maggie owned 'MOY COTTAGE' Buckie. The Margaret adopted by Maggie, married a Mr Ferris. They had a daughter who eventually received the inheritance.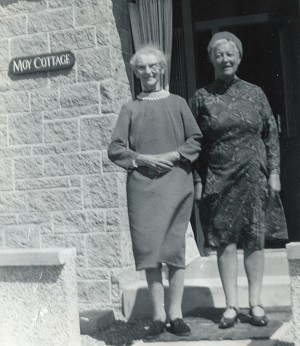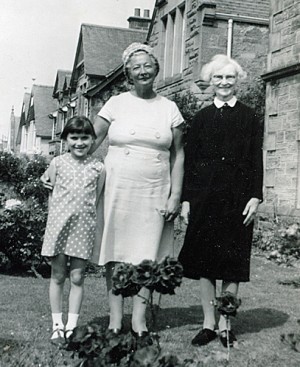 Both pics are of Maggie Sim & Christina McIntosh, youngest daughter of John McIntosh (b.1845)
Pics by Glenn McIntosh

5. Hannah was much the youngest of the family, being born around 1895. She never married, and after Jeannie went to live with Maggie in Banff, Hannah continued to live alone in the house which had been her parents. Some time in the early/mid 1950s the 3 sisters all moved into a detached house in the High Street, Buckie.
William McIntosh
Shipbuilder
(b.23 October 1879 Portessie, Banffshire) - (d.15/8/1956 Portessie)

married 12 October 1910

Helen Geddes
(b. 9 January 1882 Findochty) - (d.12/9/1948 - Buckie, aged 66yrs)
Daughter of William Geddes & Catherine Flett
The following information on the children of William McIntosh & Helen Geddes was provided by Mike McKeag & Ian McIntosh.

i. JESSIE (JANET) MCINTOSH, b. 1911; d. 1984. A graduate teacher, married ROBERT (BERT) MATTHEW BRUCE ROSS, a graduate school teacher. They had children Neil, Sheila and Malcolm, all married with children and now some grandchildren.
ii. WILLIAM GEDDES MCINTOSH, b. 1914; d. 1972; a motor mechanic and later a 'bus driver in London. He married (1) PAMELA HOUSEMAN in July 1942, divorced, and (2) IRENE GRIFFIN in 1967. By his first marriage he had Alisdair Iain (twice married, with a child by each marriage) and by his second Rona.
iii. JOHN MCINTOSH (see below) Read obituaries HERE
iv. CATHERINE MCINTOSH, b. 1918; d. 1996. Qualified in Domestic Science, specialising in caterering. (see picture below)
v. HELEN MCINTOSH, b. 1923 and, widowed, living at Insch, Aberdeenshire. A graduate teacher married WILLIAM (BILL) COWIE, a farmer. They had children Elaine, William and Moira, all married with children and some grandchildren.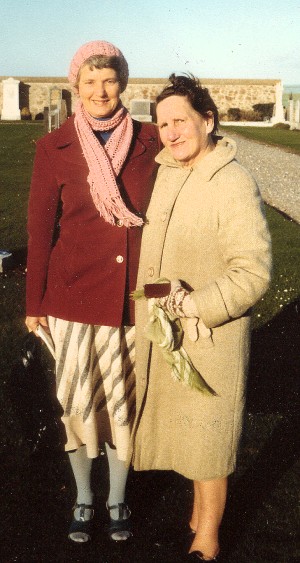 Jean McIntosh (wife of John McIntosh, grandson of John McIntosh b.1845) and Catherine McIntosh at Buckie 1979.
Pic by Glenn McIntosh
Info by Mike McKeag - 2006 and Ian McIntosh 2007

JOHN MCINTOSH (son of WILLIAM MCINTOSH b1880) was born in Buckie, Banffshire on 28 March 1916, died in Edinburgh 19 November 1981. He married ALICE CHRISTIE, (born South Shields, 14 February 1907, died 2002), daughter of JOHN CHRISTIE and ALICE HORNBY on 16 April 1941. John was a medical doctor and Alice was a mathematics graduate teacher.

i. JOHN (IAN) CHRISTIE MCINTOSH b. 6 June 1942, Carlisle.
ii. EILEEN CHRISTIE MCINTOSH b 20 September 1946.
iii. DAVID CHRISTIE MCINTOSH b 26 May 1949, Whitehaven.

JOHN (IAN) CHRISTIE MCINTOSH. Retired actuary. Married CYNTHIA MARGARET BOULD, retired pharmacist. They live in Edinburgh and Tunbridge Wells and have children
i. ANDREW JOHN MCINTOSH, language teacher, living in Columbia.
ii. RICHARD KEITH MCINTOSH, supervisor in finance company. Living in Edinburgh. (Married Catherine Elizabeth Speed, with 2 sons, Jamie and Ewan.)
iii. CLAIRE ALISON MCINTOSH, Management accountant, living in London.
EILEEN CHRISTIE MCINTOSH (daughter of JOHN MCINTOSH b.1916) was born in Newcastle upon Tyne. She married ROBERT MICHAEL MCKEAG, a university lecturer. She is a chemistry graduate, and now has a counseling practice in Belfast.
i. ROBERT DAVID MCKEAG. Electronic engineer. Married ANGELIQUE BAFFUTO. They live in London.
ii. HELEN CHRISTIE MCKEAG. School teacher, living in Kuala Lumpur.
iii. JOHN MICHAEL MCKEAG. Police officer. Married CLAIRE AUTY. They live in Perth, Scotland and have a baby daughter, Chloe.
iv. ANDREW PETER MCKEAG. Mathematician, living in London.
v. CATHERINE ALEXANDRA JANE MCKEAG. Student at Aberdeen University.
DAVID CHRISTIE MCINTOSH. ( son of JOHN MCINTOSH ). Property owner. With Letty Snethen, living in Toronto.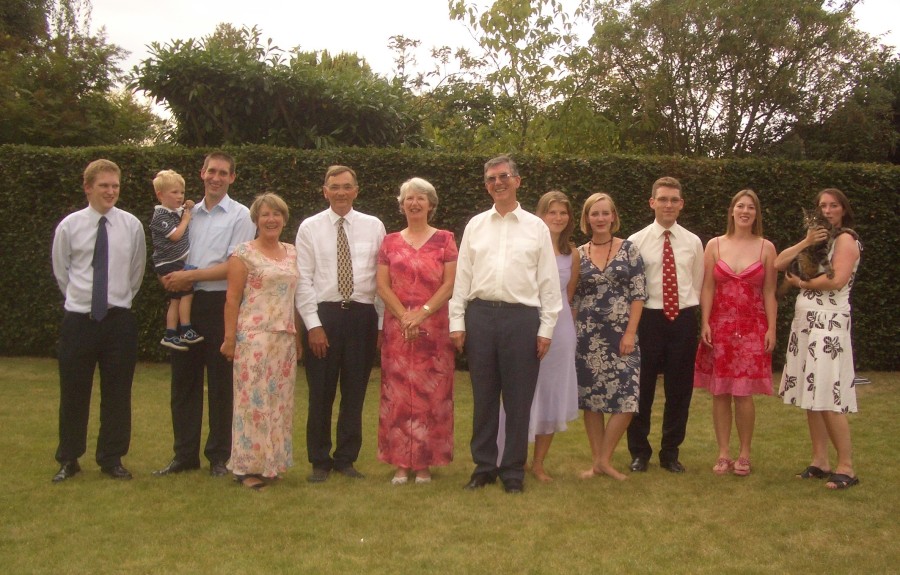 This image & info provided by Mike McKeag, husband of Eileen being great grandaughter of William R. b1853.
This photo was taken summer 2006 at the Ruby Wedding celebrations of Ian & Cynthia and shows all the McIntosh descendants who were present.
From left to right they are: Peter McKeag (son of Eileen McKeag), Jamie & Richard McIntosh (grandson & son of Ian McIntosh), Sheila Wood (nee Ross) (daughter of Janet McIntosh), Alastair McIntosh(son of Willie McIntosh), Eileen McKeag (daughter of John McIntosh), Ian McIntosh (son of John McIntosh), Catherine McKeag (daughter of Eileen McKeag), Ellie Wood (daughter of Sheila Wood), Robert McKeag (son of Eileen McKeag), Helen McKeag (daughter of Eileen McKeag), Claire McIntosh (daughter of Ian McIntosh).
Sources & acknowledgements
Mrs Isobel Smith
Mrs Coral Haeusler
Ian McIntosh
Mike McKeag
Jean McIntosh
Neil Ross
John Crawford - Buckie and District Fishing Heritage Centre